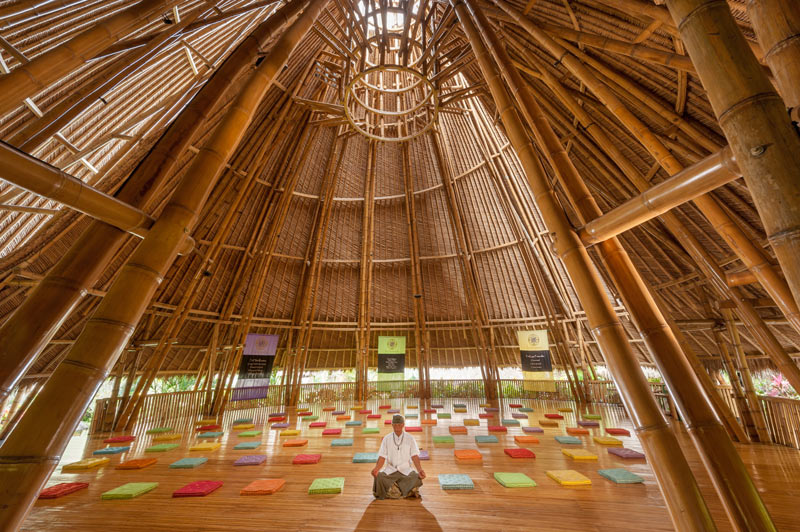 Fivelements Puri Ahimsa
A centre for healing in the lush highlands of Bali
Nestled alongside the Ayung River in the lush highlands near the village of Ubud, Bali, Fivelements, Puri Ahimsa is a luxury eco-conscious healing resort, 70% of which is made out of bamboo.
Inspired by the Balinese way of life, which encourages us to come into harmony with the Spirit, the environment and with one another, Fivelements' integrative healing approach is designed to tune-in on physical, emotional and spiritual levels.
The resort collaborates with each individual guest to activate, facilitate and nurture them on the healing path.
Deeply rooted in the ancient traditions of Bali, Fivelements' wellness programmes are three-fold:
• Traditional Balinese Healing and wellness rituals & ceremonies: from traditional Balinese massage to energy healing therapies and beauty spa treatments
• Living Foods: blending gourmet raw vegan and vegan cuisine
• Sacred Arts: yoga, meditation, dance, expressive arts
The property's nine suites in standalone pavilions ensure an exclusive stay with exemplary personalised service. Each suite features an open veranda exposed to the river's swirling currents, and a private bamboo enclosure housing a large open-air bathtub hewn from a stone boulder. A customised lighting design showcases the seven colours of the chakras, bringing mind, body and spirit in unison with nature. Programme at Fivelements include:
Signature Retreats
Three signature healing retreat packages are Panca Mahabhuta for regeneration, replenishment & alignment, Tri Kaya Parisudha for detoxification & transformation, and Cuisine for Life™, culinary training for health, beauty and longevity.
Special Stays
Feel the magic of Fivelements and enjoy the beautiful facilities of our exclusive suits as well as a highly personalized Spa and healing programme of treatments designed by our Wellness Team
Exclusive Day Experiences
For guests wishing to experience Fivelements just for a day, they can choose from our packages that offer a sneak peak at our treatments, sacred arts and raw living foods cuisine. Guests can also request a tailor-made day experience cherry picked from our repertoire, or speak to one of our experts to create something entirely different.
Weddings & Honeymoons
Fivelements offers its exquisite location and a full range of services and facilities for highly personalised wedding experiences including pre-wedding days, wedding ceremonies (both traditional and Western) and romantic Honeymoon stays. We cater for both intimate and large receptions and celebrations.
Healing Journeys
These one- to five day trips combine a personalized journey of healing within the retreat with a nurturing Balinese journey, perhaps a visit to a remote Balinese Village, a home stay with a Gamelan musician or a trek into the rainforest to search for healing herbs.
Masters Series
Renowned healers and wellness experts visit Fivelements with their specific program designed to intuitively provide answers (held on specific dates throughout the year). For example, guests can choose a silent meditation retreat with Merta Ada, learn how to introduce raw living foods into their daily diet with Chef Cherie Soria, or embark on a journey into longevity and superfoods by gourmet chocolatier David Wolfe.
---