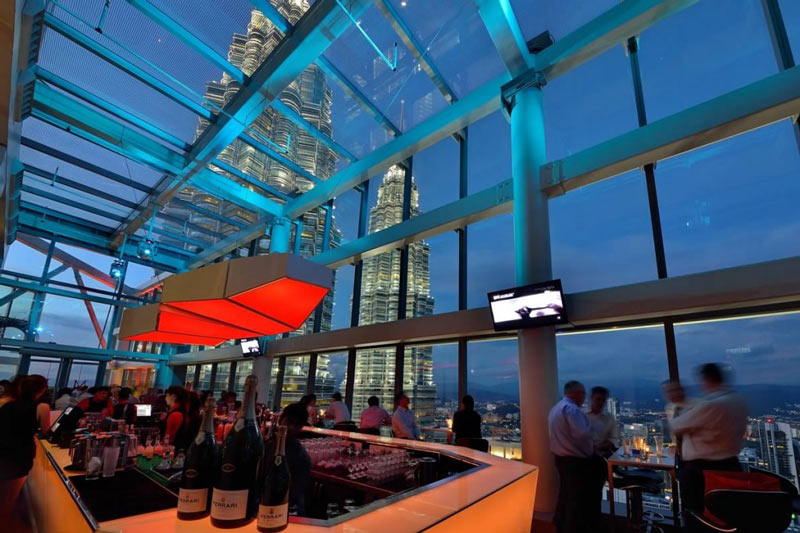 Marini's on 57
Marini's on 57 It's Life at the Top
Malaysia's highest rooftop bar, Italian restaurant and lounge is located intimately close to the Petronas Twin Towers, and offers amazing 360 panoramic views of the Kuala Lumpur City skyline. Perched on the 57th floor of Petronas Tower 3, the venue comprises of three distinct spaces, each encapsulating different moods designed to enthrall all five senses.
With acclaimed architecture featuring floor to ceiling glass and unsurpassed views of Kuala Lumpur, Marini's on 57 leaves guests with unforgettable memories from a monumental height.
Here at Marini's on 57, guests can indulge in Italian luxury dining cuisine before moving into the bar where our in-house DJs spin their magic; or onwards to the lounge, which houses the most extensive single malt whiskey, and cigar collection in the country.
Elevate yourselves to the 57th level of Petronas Tower 3, and you will not be disappointed. Drink, dine and relax the night away while you perch loftily next to Malaysia's majestic Twin Towers, and enjoy spectacular views only Marini's can offer.
The Bar
Marini's ultra-chic rooftop bar is the perfect place to spend a night out in KL, while enjoying our signature cocktails, premium champagnes and extensive list of exclusive wines. The bar's futuristic architectural design encompasses floor to ceiling glass windows, boasting the best views of the city.
The Restaurant
The restaurant has been called many things from cool to chic, funky to friendly and even cuisine in the clouds. Everything about this intimate restaurant reflects quality, style and elegance. From its inception, the restaurant was established as a destination dining venue; the place to eat out in Kuala Lumpur.
The Lounge
At our cigar lounge, patrons are immersed in old-world Italian charm. The lounge is adorned in velvet and leather, and is traced with the aromas from an impressive line of imported cigars. Featuring the finest single malt whisky collection and a notable wine list, the lounge is the ideal venue for closing that business deal, hosting a private event, corporate function or to just relax and unwind with a glass of your favourite Whisky.
---