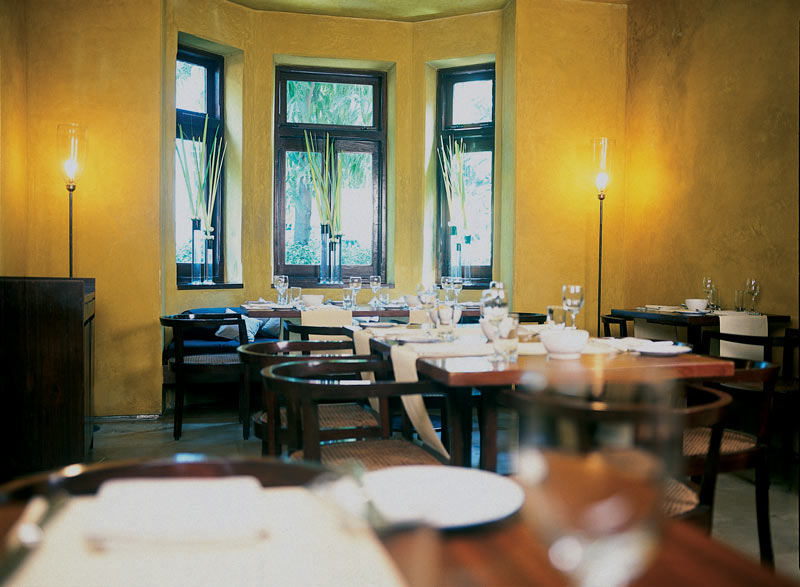 Indigo
Indigo is one of India's premier restaurants. A "back-to-basics" address that serves up an eclectic European-Asian cuisine coupled with an expansive bar and banqueting facility, it opened its doors in April 1999. It was designed from day one, to embrace three basic principles of excellent food, warm hospitality and superior levels of service. It is housed in a restored turn-of-the-century bungalow off the busy Colaba Causeway in South Mumbai.
The main dining room on the ground floor, with its sky-lit, Shiva blue pond, off-sets a bustling bar with its blood-red colored wall and staircase. Across the bar, the intimate, Yellow Dining Room is also available for private dining. The Indigo Black Lounge on the terrace is an exclusive adult hideaway with a great wine and single malt list, a fine selection of cigars and unhurried lounge style dining, while the terrace offers a magical al-fresco dining experience set against the backdrop of the city.
Minimalist restraint and fine detailing maintain a taut balance between stark walls, sandstone flooring, simple polished teak furniture and a few brightly colored frescoed surfaces. Everything is designed to make sure that the food is the star of the show.
The focus at Indigo will always be the food. Loosely modern European, it is expressed with a healthy dose of local Indian flavor using ingredients that are seasonal and very fresh. The menu evolves as the seasons change and the creative fare is balanced and augmented by one of the best wine lists in India with an exemplary service team that keeps customers coming back.
Indigo boasts a clientele of the who's who from India and has played host to international celebrities such as Chelsea Clinton, the Sultan of Brunei, the Prince of Denmark, Jane Fonda, Marissa Tomei, Angelica Houston, The Rolling Stones, Angelina Jolie and Brad Pitt, to name a few.
Indigo has won many awards. In most cases, it is the only restaurant from India to feature in these rarified portals of professional distinction. Cond? Nast Traveler in 2000 called Indigo one of the "World's Hottest 60 Tables," Travel & Leisure Magazine, said Indigo was one of the "Top Reasons to Visit Mumbai" and in January 2006, Indigo was named one of India's best restaurants by Time Magazine.
The restaurant has also won numerous local awards for Best Western Cuisine, Best Sunday Brunch, Best Dining Experience and Restaurant of the Year, every year since it opened in 1999. It has been covered by numerous national and international publications and broadcast media like CNN, BBC, CNBC, Canada City TV and Star TV. And in 2007, Indigo was ranked 75th in the world at The San Pellegrino World's Best Restaurants Awards in London, recognized around the world as the most credible indicator of the best places to eat on Earth. In 2008, Indigo was ranked among the top five restaurants in India as part of San Pellegrino World's Best Restaurants New Regional Recommendations and also won The Times Nightlife Award for the Best Restaurant and Bar of the year.
It is also a yearly winner of the prestigious Award of Excellence from Wine Spectator, which it has won since 2001. It marks Indigo's commitment to a fine wine list that displays depth and a thematic match to the menu in both price and style. It is the "must-visit" destination for all winemakers visiting India, where they showcase their wines pairing them with Indigo's food, over many course dinners. Ch?teau Latour, Margaux, Cos d'Estournel, Pontet-Canet, Gaja, Antinori, Vega Sicilia, and such, are but some of the winemakers hosted by Indigo over the years. In 2006, Indigo won The Liquid Bar Award for the Best Wine List in India.
Indigo opens its doors every day, planting India firmly on the worldwide culinary map. To spend a few indulgent moments here is to dine at the best of what modern India has to offer.
Accolades and Awards won by Indigo:
Hotel & Food Service Awards India: Best Designed Restaurant 1999;
Cond? Nast Traveller: World's Hottest 60 Tables 2000;
Wine Spectator: Award of Excellence 2001 to 2010;
Hotel & Food Service Awards India: Best Western Cuisine 2002;
Travel & Leisure Magazine: "Top Reasons to Visit Mumbai" 2003;
Times Food Awards: Best Restaurant & Bar 2004;
Times Food Awards: Best Sunday Brunch 2004;
Times Food Awards: Best Restaurant & Bar 2005;
Times Food Awards: Best Sunday Brunch 2005;
Stars of The Industry Awards: Restaurant of The Year-Western Cuisine 2006;
Savvy Cookbook Awards: Best Dining Experience 2006;
Savvy Cookbook Awards: Best Western Cuisine Restaurant 2006;
Liquid Bar Awards: Best Wine List 2006;
Time Magazine: "One of ten best reasons to visit Mumbai," Jan 2006;
Stars of The Industry Awards: Restaurant of The Year-Western Cuisine 2007;
India Today 100 Awards: Best European/Mediterranean Restaurant 2007;
San Pellegrino World's Best Restaurants Awards 2007, London: Number 75;
Times Food Awards: Best Continental Restaurant 2007;
Wine Business International, Germany: Best Wine List Mumbai 2007;
Times Nightlife Awards: Best Restaurant & Bar 2008;
Burrp! Awards: Best Eclectic Food & Superlative Service 2009;
Burrp! Awards: Best Brunch 2009;
Miele Guide Award, Singapore: Best Restaurant in India (Runners Up) 2009;
Stars of The Industry Awards: Most Admired Restaurant 2009;
Times Food Awards: Best Continental Restaurant 2010;
CocaCola Golden Spoon Awards: Most Admired F&B Retailer 2010;
Stars of The Industry Awards: Best Restaurant Continental Cuisine 2011;
Times Food Guide Awards: Best European/Global Restaurant 2011;
NDTV Good Times Food Awards: Best European Restaurant in India 2011;
Indian Restaurant Awards: Most Preferred Western region Restaurant 2012;
Miele Guide Award, Singapore: Nominated in the 5th Edition of the Miele Guide, 2013;
San Pellegrino Asia's 50 Best Restaurants Awards 2013, Singapore: Number 28; Best Standalone Restaurant & Best European Restaurant from India.
Times Food Guide Awards: Best European/ Global Restaurant, 2013;
TripAdvisor Certificate of Excellence, 2013.
The Daily Meal, 101 Best Restaurants in Asia, 2013
TimeOut India Food Awards, 2014: Favourite European (People's Choice)
---