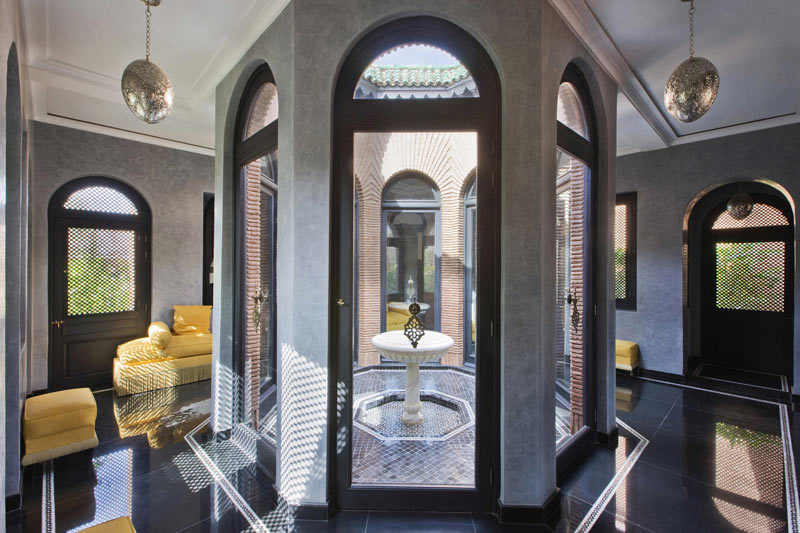 Selman Marrakech
At the foot of the Atlas Mountains, away from the hustle of the medina, what seemed like only a mirage has become a reality: Selman Marrakech, a palace of distinct, sublime and alluring charm. Passing through the immense portico, the gaze is drawn over the whole property by the geometry of the facades and gardens dotted with fountains, creating a sublime harmony. Across the Mechouar, the traveller gets a glimpse of the interior, a sensual contrast to the grandeur of the exterior.
Designed by Jacques Garcia and built by the best artisans, Selman seduces with its timeless harmony. At this intimate, personal and family-owned property, each guest shares in the joy, love and dreams of their warm and passionate hosts. In this timeless palace whose construction was the vision of the owner, the art of traditional Moroccan hospitality has been revived. Precious moments are embodied in the presence of the beautiful thoroughbred Arabian horses, symbols of a bygone grandeur, which capture the spirit of Selman and invite the joy of living. There are views of the horses from the terraces and the gardens where one can admire the majesty and poise of these animals. Moments of pure grace add to the perfection of this timeless experience.
An essential and unedited experience, a return to the source of forgotten luxury, now found again under the light of the Selman's stars.