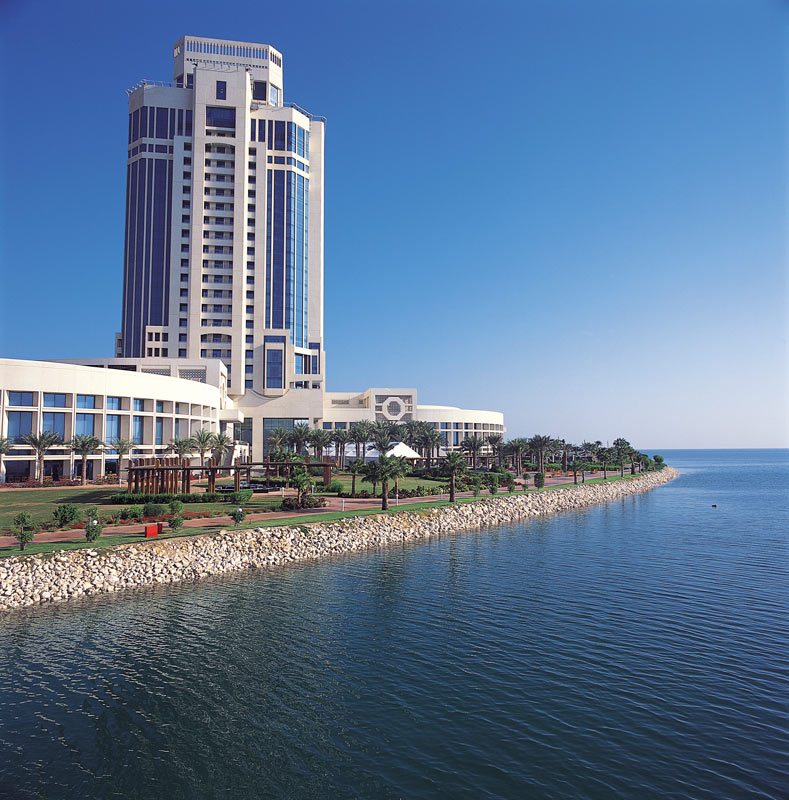 Ritz-Carlton, Doha
Soaring 115 metres above Qatar's sea and desert landscape, The Ritz-Carlton, Doha is an impressive symbol of the nation's emergence as a destination for travellers to The Middle East. The 374-room, five star resort fuses contemporary styling with classic Arabic and European design.
Located on its own exclusive island in the prestigious West Bay Lagoon district, with views overlooking the waters of the Arabian Gulf, the resort is secluded, yet easily accessible. Just ten minutes from Katara Cultural Village, the 80,000 square metre glass and chrome tower is a showplace structure. It's sleek, uncluttered exterior leads to an interior with chic residential elegance. The formal, oasis-like grounds are accented with tiered, Arabic eight point star fountains, reflecting pools, hidden grottos, and clusters of date palms and flowering tropical shrubs. A 235-slip sailing marina, the nearby Doha Golf Club, and a world of recreational facilities make The Ritz-Carlton, Doha stand out as a destination resort.
The focal point of the diamond-shaped main lobby is a 7.5 metre Viennese chandelier whose 2,000 plus crystals illuminate an intricately patterned stone carpet floor.
The chandelier hangs directly over a Moorish-inspired fountain in the lobby's center. Richly textured 18th century tapestries, elaborate applications of gold and silver leaf and graceful arched doorways recall the splendour of royal palaces. Richly hued, Chippendale sofas and Regency chairs stand in colourful contrast to the crisp white walls and ceilings. Full-length windows frame the outdoor scenery of sun, sand and sea. Grand marble staircases lead from the lobby to the garden and pool area.
To bring a sense of intimacy to the hotel's interior, designer John David Edison of Toronto, Canada, has created individual and unique environments throughout the square framed corridors. Lined with more than 30 varieties of stone and Italian marble, the intricate corridors lead to areas with their own distinctive identity and "sense of place".
Guestrooms and suites at The Ritz-Carlton, Doha reflect the Middle Eastern appreciation for brightly hued colours and contemporary style. Furnishings, hand crafted in Spain and Italy, include sea blue armoires with inlays of yellow and gold leaf. Headboards are distinguished by rich gold leaf and shades of crimson red. Carpets are Kaleidoscopes of colour and patterns. Black and white calligraphy works of art hang on the walls. Balconies in each guest room offer panoramic views of either the water or the impressive West Bay Lagoon.
With 61 spacious suites, The Ritz-Carlton, Doha is well suited to host dignitaries and extended families. Quilted velvet and silk wall coverings, furnishings of eclectic elegance, and finely appointed rooms put the accent on luxury. For guests selecting Club accommodations, reachable only by keyed elevator access, the level of service resembles a "hotel within a hotel". A multilingual concierge, private lounge area, and five daily food and beverage presentations are featured.
---