Skoda Enyaq iV – Simply Electric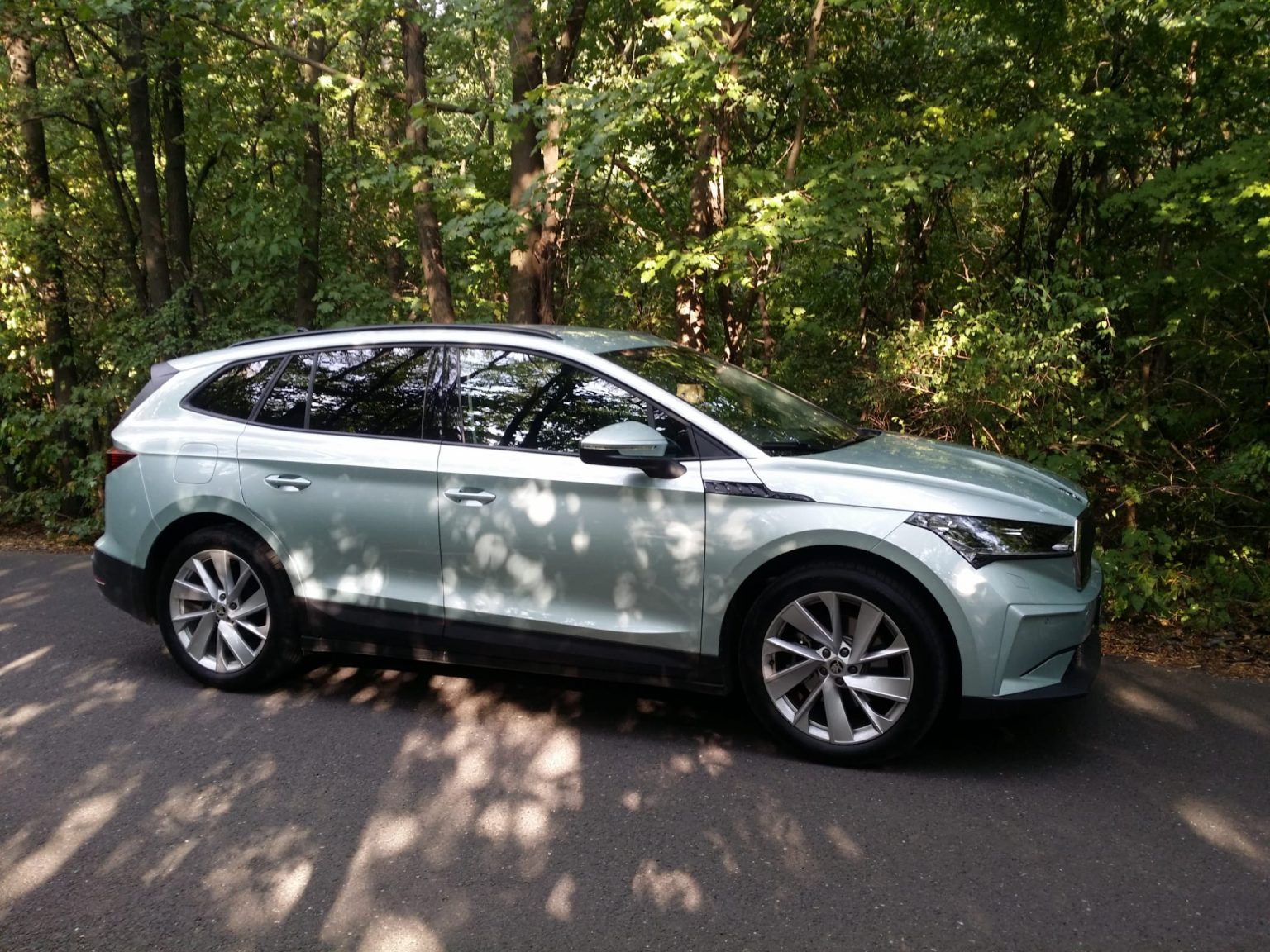 Prepared by Rhapsody Magazine
Elegant outside, well finished inside. The way the Skoda Enyaq iV has been styled cleverly, combines Skoda's traditional design cues with a more modern and futuristic look.
The Skoda Enyaq is a large SUV (about the same size as the Audi Q5), offering plenty of space for the family, and a good range between charges. Most important,  is the reason why you no longer need to spend big money or accept mediocrity when you buy an electric car.
The Enyaq rides decently, and it turns nicely enough, because although it's heavy, the weight is centred low, beeig an agreeable rather than exciting companion.
The Enyaq is 4.65m long and 1.88m wide (but looks bigger), and comes in two versions. The 60 one, that we had in tests, has a 58kWh usable battery (62kWh gross), has a WLTP range of 412km, and it weighs 1890 kg.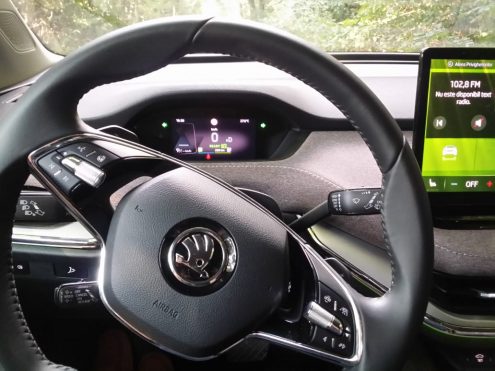 Can be charged at up to 50kW as standard, getting 100kW charge capability as an option.
Driving it, is very easy – no "Start" button to press, just hop in, put your foot on the brake pedal, pop it into D (or B) and you're away.
The driving position is great, the car retains a strong centre tunnel in the front, even though I suppose it doesn't technically need one – but storage abounds – and there's generous rear room and a big boot. All the seats are comfortable and there's plenty of room for people and things.
Pretty big glass area,  makes the interior very airy and generous. The interior feels really well built, and depending on your choice of model, is available with a selection of sustainable, eco-friendly materials. As mentioned, there's loads of room inside – whichever of the five seats you're sat in.
The central screen is a big 13-inches across. Takes a minute to wake-up when you switch the car on, but after that it responds pretty quickly to your inputs and has a thoughtful UI.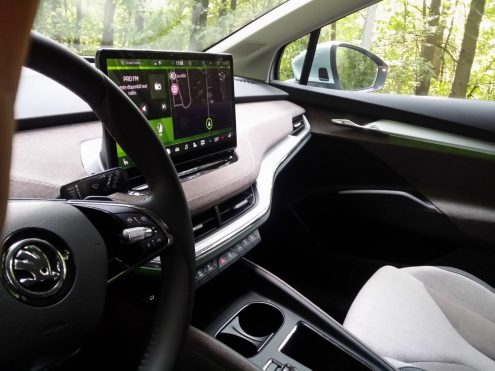 Skoda's implementation of touchscreen climate controls is at least better than some others' in its family. Another small win for the Skoda  consists in the placement of said central screen, meaning you can rest your wrist on the, dash whilst poking about in the menus..
Ahead of the driver is an unusually small screen, that only displays speed, charge and the status of the adaptive cruise control. It's very clear and easy to use.
OUR VERDICT: Skoda's first bespoke electric car very nearly has it all – space, technology and a solid 300-mile range. It represents decent value for money, too. with so many clever features, this electric SUV is destined to make it a great family car.
Skoda has a fantastic reputation for reliability, and the Enyaq iV was recently awarded the maximum five-star crash-test rating by Euro NCAP