Jewel Changi Airport: Luxury and jungle in the heart of Singapore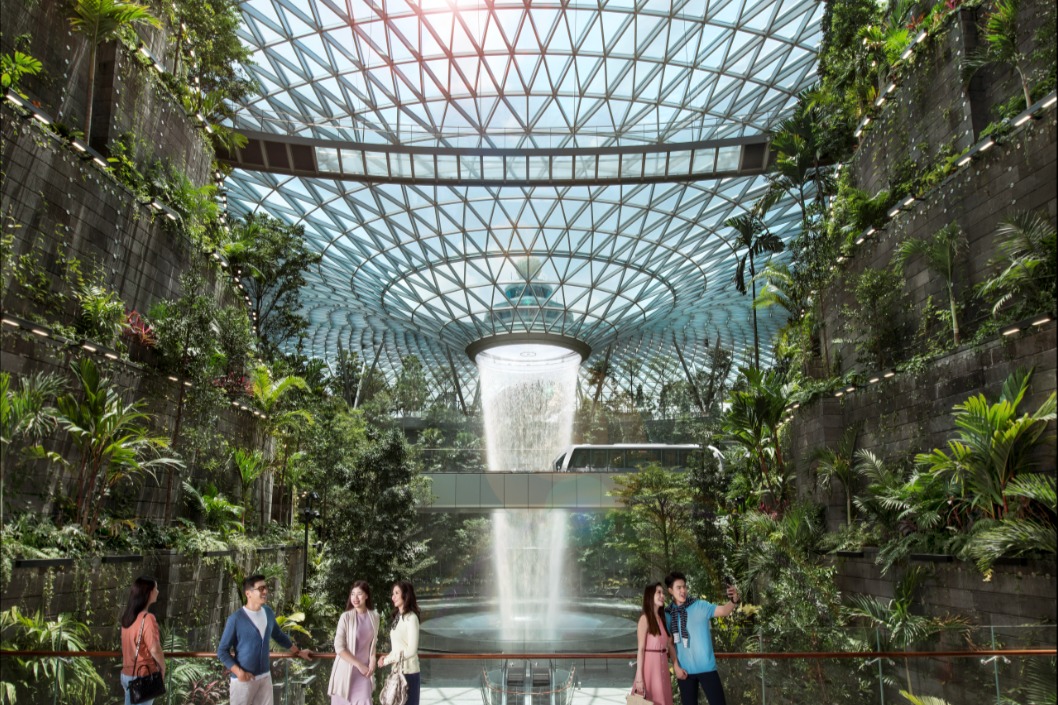 Designed as an extension of Singapore's reputation as a city in a garden, Jewel Changi Airport has become an iconic landmark on Singapore's skyline.
By winning the Luxury Lifestyle Awards in the category of best luxury shopping malls, Jewel Changi Airport showed how bold and ambitious decisions can turn a cement-filled parking lot into an indoor paradise. With retail outlets and restaurants integrated with elements of nature, visitors to Jewel can enjoy an unparalleled shopping and dining experience while relaxing in lush greenery.
One of the most modern and luxurious airports in the world
Jewel Changi Airport is an impressive structure built in the heart of Singapore's Jewel Changi Airport, which has cemented its status as one of the best airports in the world. The decision to build a mixed-use complex was taken in 2013, at the same time as the expansion of Terminal 1 and the redevelopment of the open-air car park. A year later, construction began, and in April 2019, Jewel opened its doors to visitors.Designed by famous architect Moshe Safdie, the complex has 10 floors, 5 of which are underground and 5 above. Offering over 280 shopping and dining options, Jewel prides itself on a mix of world-class tenants with stores and restaurants that include a strong stability of new-in-market and well-established brands, as well as concepts and exclusive Jewel merchandise, ensuring there is something for buyers and travelers from all walks of life.The most impressive attraction is the HSBC Rain Vortex, located right in the center of Jewel. This majestic 40-meter waterfall is a giant column of water falling from an oculus into a glass roof and is the tallest indoor waterfall in the world. In the evening, the waterfall turns into a spectacular sound and light show that captivates visitors.
Jewel Changi Airport: The jungle in the middle of the city
Echoing Singapore's reputation as a 'City in a Garden', Jewel Changi Airport invites you for a breathtaking stroll through scenic Shiseido Forest Valley, a four-story terraced garden surrounding the HSBC Rain Vortex. You will discover astonishing plants carefully selected from all over the world, including 2,000 trees and palm trees and more than 100,000 shrubs that will make you forget that you are in the heart of the metropolis.For an even more impressive experience, the experts at the Luxury Lifestyle Awards recommend that you visit the Canopy Park, located on the upper level. Don't deny yourself the fun of trying out the pair of Manulife Sky Nets which are stretched high above the ground or challenge your fear of heights by crossing the glass-bottom Canopy Bridge.Travelers to Singapore will find early check-in and baggage storage services at the Jewel. You can also stay and rejuvenate in one of the elegantly designed cabins at YOTELAIR Singapore Changi Airport, the perfect place for business travelers and transit passengers to relax and rejuvenate. If you are traveling, do not hesitate to consult our addresses and our favorites on Minute Luxe Magazine.
The article is kindly prepared by our Media Partner Minute Luxe Magazine, the full content is available on this link