Discovering the Nature of Arabian Privacy at Mysk Kingfisher Retreat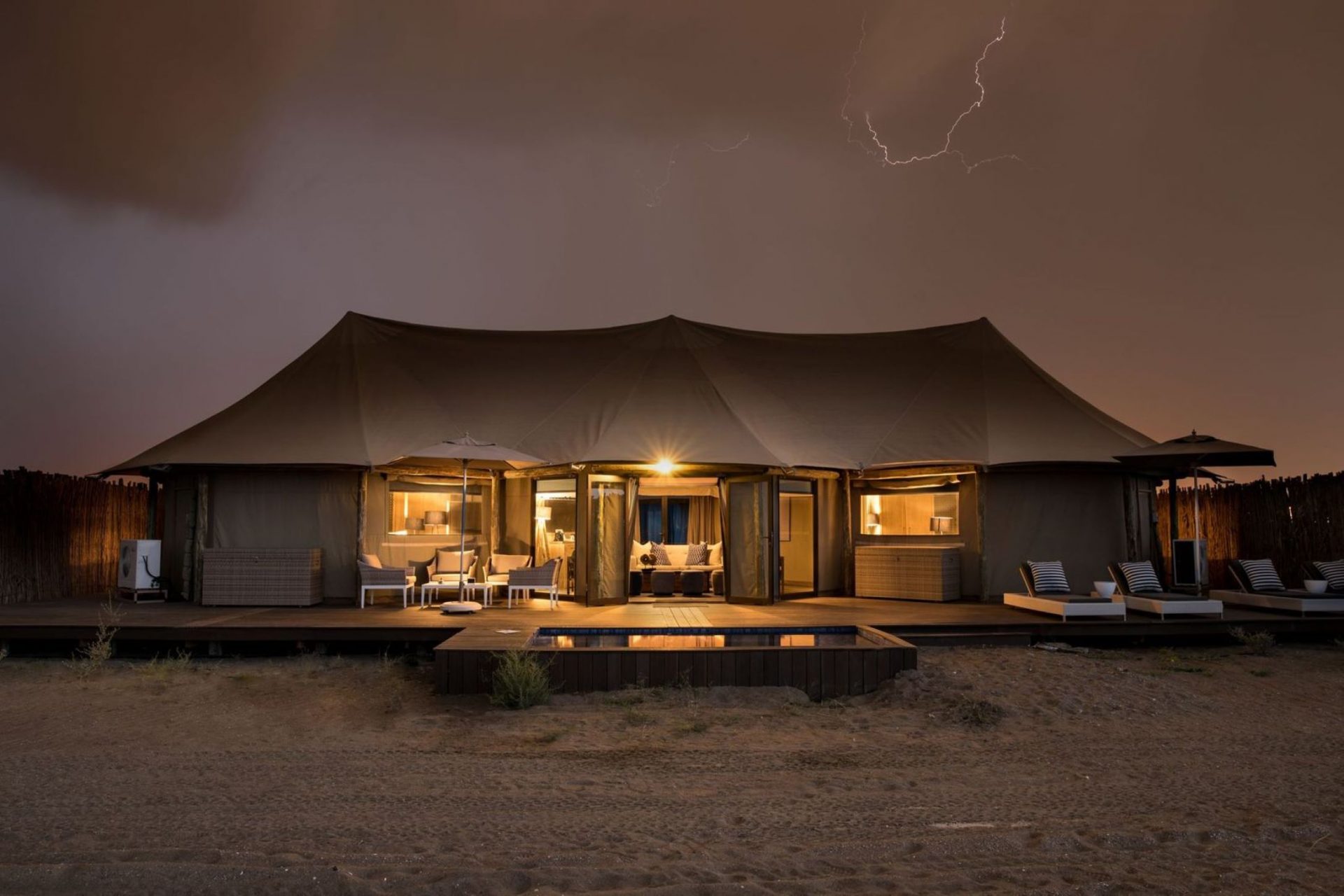 There are times when you need to speed up, immerse yourself in the tumultuous rhythm of the modern world, make quick decisions, and act decisively. But there are times when you need to slow down, take a break, get rid of stress and let the feeling to float on the waves of calm and tranquility. Every detail, every inch of Mysk Kingfisher Retreat is designed to make these moments of inner and outer harmony last as long as possible and bring you maximum relaxation and rejuvenation. No wonder this marvelous resort, developed by Shurooq and managed by Shaza, became the winner of Luxury Lifestyle Awards in the category of The Best Luxury Eco Retreats in the Middle East.
Mysk Kingfisher Retreat is located on the east coast of the Emirate of Sharjah, at the edge of the city of Kalba. This is a fascinating location where the arid island landscape is washed by the waters of the Gulf of Oman. The natural retreat provides the opportunity to meet various rare bird species and wildlife.
The resort comprises 20 tents settled on the Arabian Sea coast. There are 13 One Bedroom Tents with sea views (139sqm), 2 One Bedroom Tents with mountain views (139sqm), and 5 Three Bedroom Tents with sea views (344sqm). Each accommodation features air-conditioning, furnished patios, 50-inch LED TVs with satellite channels, private plunge pools, hair dryers, free toiletries, bathrobes, and slippers. The tents have space to spread out with sitting areas; all guests can enjoy the benefits of a private beach providing comfort and sophisticated serenity.
Mysk Kingfisher Retreat invites its guests to the All Day dining restaurant "Al Qurm" offering buffet style, a la carte breakfast and dishes, picnics on the beach, and private BBQs. The resort's meeting room with a capacity of 20 persons can host team building activities, workshops, or small conferences.
"We are happy to represent the region's unparalleled and enchanting essence in Mysk Kingfisher Retreat. Having concentrated on unique and the most attractive features of the Emirate, we managed to create the unrivaled tranquil ambience that was so highly appreciated by the committee of Luxury Lifestyle Awards," said Shafik Alaaeddine, General Manager.
The guests of Mysk Kingfisher Retreat can learn and practice at the archery range, kayaking, diving, hiking, cycling, and enjoy the constant feeling of rebirth while staying at the resort.