Discover the World's Ultimate Luxury Spa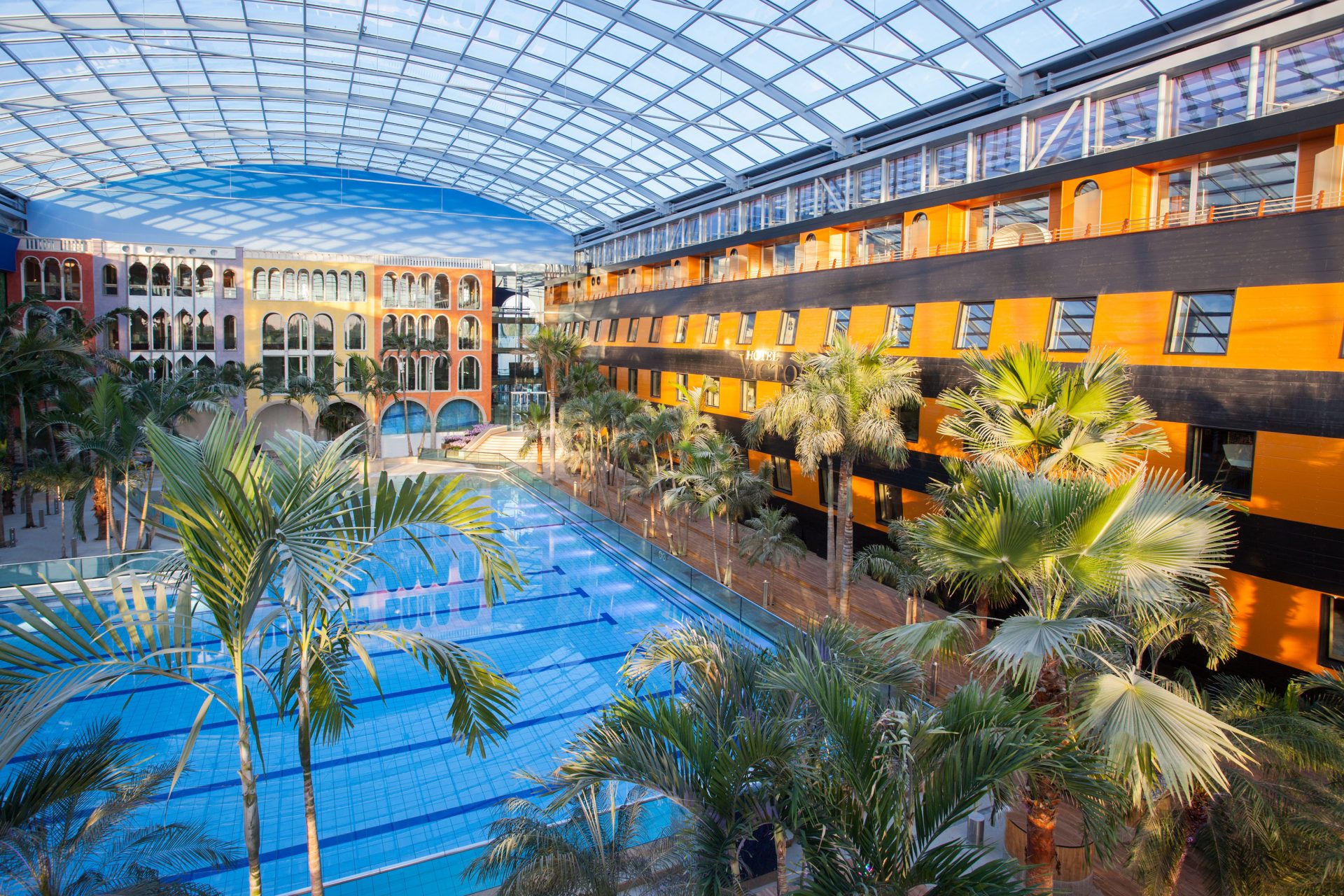 The world's biggest spa offers myriad water-based activities and health and beauty treatments as well as great restaurants and bars and luxurious accommodation all in one beautiful resort. This is why the Victory Therme Erding Hotel has been selected by the panel of experts at Luxury Lifestyle Awards as a winner of a prestigious award in the category of Best Luxury Hot Spring Resort in Germany 2021.
The elegantly unique Victory Therme Erding Hotel is designed in the style of a ship with the sparkling turquoise wave pool as its base, giving guests the impression of sailing the ocean waves. And its cleverly constructed glass dome cover means they can experience that summer feeling all year round.
Hotel guests enjoy direct access through the lobby to the wave pool which is heated to a balmy 34 degrees and surrounded by over 300 real palm trees. In summer the huge glass dome can be opened for sun-worshipping in the thermal garden. There's also a comprehensive selection of health and beauty treatments available including an invigorating aqua programme and pampering face masks and peels.
There are seemingly endless thermal-based activities to suit every guest's need in what is the world's largest spa. Choose from an incredible 35 saunas and steam baths, 27 slides and 34 pools and health baths where guests can indulge in a range of activities and treatments. Perfect for the whole family, the Tropical Spa and Water Park offers over 2,700 metres of sliding adventure in the Galaxy Water Slide World.
When it comes to accommodation, the hotel offers six different luxurious room types including cabins that can fit the whole family and the exclusive panoramic outside cabins on the top deck with their extra-large balconies and breathtaking views of the palm-lined wave pool. And there's a wealth of dining and drinking opportunities on offer, too, featuring cuisine from around the world including Asian, Italian and Bavarian dishes as well as myriad bars to sip on exotic cocktails, both alcoholic and non-alcoholic.
"We are incredibly proud to have been picked by the experts at Luxury Lifestyle Awards as a winner in the category of Best Luxury Hot Spring Resort in Germany," says Mr Jens Bernitzky, Hotel Director. "It is a great reflection on the efforts of the entire team who are all dedicated to creating a unique, relaxing and luxuriously memorable experience for every guest."