AUDI – New design language, new technology concept, new level of quality and comfort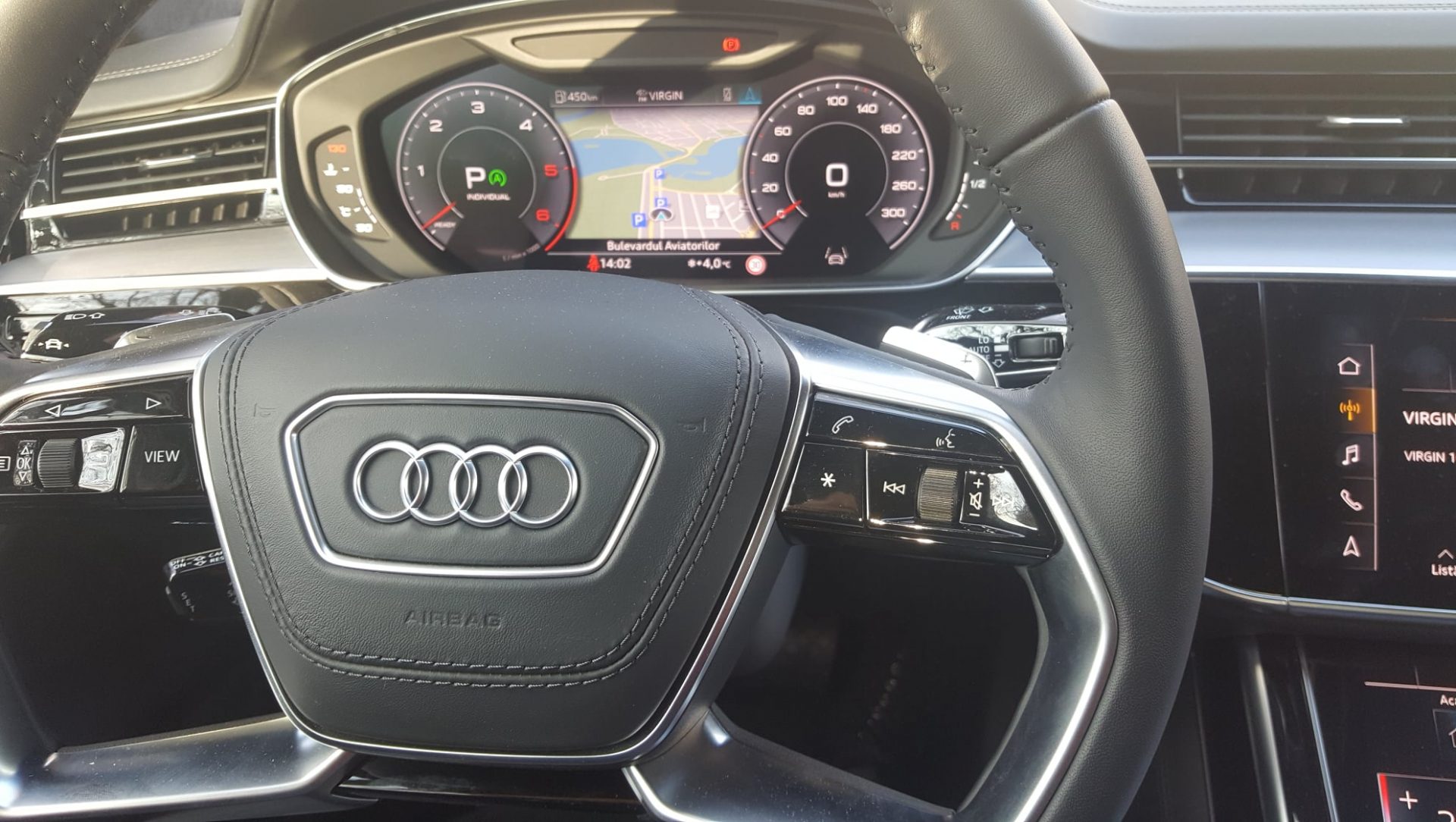 𝐌𝐫. 𝐂𝐫𝐢𝐬𝐭𝐢𝐚𝐧 𝐅𝐫𝐚𝐬𝐢𝐧, 𝐭𝐡𝐞 𝐅𝐨𝐮𝐧𝐝𝐞𝐫 𝐨𝐟 𝐏𝐫𝐢𝐯𝐚𝐭𝐞 𝐋𝐮𝐱𝐮𝐫𝐲 𝐆𝐫𝐨𝐮𝐩  test drived both the Audi A8 5.0 TDI Quattro and the Audi Q8 55 TFSI Quattro S Line, the latest models in the Audi portfolio. Both of them a statement for luxury, technology and comfort.
The new Audi A8 represents the future of the luxury class, being also one of the most technologically advanced cars you can buy. Revealing comfort, elegant design elements with sporty agility, it's beautifully made and exquisitely finished.
In terms of comfort, the A8 is without peer, at least within it's range, the interior provides a greater sense of space, with a minimalist dashboard that's free of clutter.
The Audi A8 combines greater comfort with dynamics and agility, representing a benchmark with its highly light-weight construction.
The intelligent driver assistance systems feature numerous innovative technologies that assist you in a variety of ways, guaranteeing comfort and safety at a high level.
The A8's cabin is more minimalist than before, which only serves to heighten the sense of calm and relaxation.
Plenty of interior space, highlighted and further enhanced in its quality, combined with gadgets on board that are placed and designed to make your trip as easy as possible, latest generation's infotainment system very intuitive in its operation, you will find a completely new driving experience.
Thanks to the multi-colored ambience light package, the interior is staged with precise fiber optics.
The electrically-adjustable leather seats, are very comfortable over long distances, offering a number of options for the rear passenger space, including a 'relaxation seat'.
The selling price starts at 96.500 eur.
Here are the technical specifications for Audi A8 (D5) 50 TDI Quattro
| | |
| --- | --- |
| Body : | Sedan |
| Num. of Doors : | 4 |
| Wheelbase : | 299.8 cm or 118.03 inches |
| Length : | 517.2 cm or 203.62 inches |
| Width : | 194.5 cm or 76.57 inches |
| Height : | 147.3 cm or 57.99 inches |
| Max. Towing Capacity Weight : | 2300 Kg or 5070.63 lbs |
| Num. of Seats : | 5 |
| Weight-Power Output Ratio : | 6.8 kg/hp |
| Trunk / Boot capacity : | 505 L |
| Engine type – Number of cylinders : | V 6 |
| Fuel type : | Diesel |
| Fuel System : | Common Rail |
| Engine Alignment : | Longitudinal |
| Engine Position : | Front |
| Engine size – Displacement – Engine capacity : | 2967 cm3 or 181.1 cu-in |
| Maximum power – Output – Horsepower : | 286 PS or 282 bhp or 210 kW @ 3750 rpm |
| Maximum torque : | 600 Nm or 442 lb.ft @ 1250 rpm |
| Drive wheels-Traction-Drivetrain: | AWD |
| Transmission Gearbox – Number of speeds : | 8 speed Seq |
| Front Suspension : | Multilink. Air Suspension. Anti-roll bar. |
| Rear Suspension : | Multilink. Air Suspension. Anti-roll bar. |
The Audi Q8 is a two-row SUV that shows sportiness and luxuriousness, a great mix of comfort and technology, and it blends coupe like design and SUV versatility.
The Q8 is best suited for those who prioritize sportiness, luxuriousness, and style. The  interior is lovely designed, with a clever materials mix, and quite a bit of progressive thinking.
Sporty enough to satisfy enthusiasts, refined enough to coddle passengers, the Q8 also provides a driving experience that is both athletic and stylish. Its cabin is beautifully appointed and solidly put together in typical Audi fashion.
In typical fashion, Audi has crafted a sophisticated environment inside the Q8.
The materials are premium, with leather surfaces, a beautiful leather dashboard with contrast stitching.
Four-zone climate control,  heated front seats offering massage, and a panoramic sunroof, and customizable ambient interior lighting are completing the interior, and make Q8 visually impressive.
The selling price starts at 68.000 eur.
Here is the Audi Q8 55 TFSI Quattro Engine Technical Data
| | |
| --- | --- |
| Engine type – Number of cylinders :    V 6 | V6 |
| Fuel type  | Petrol |
| Fuel System | Direct Injection |
| Engine size – Displacement – Engine capacity  |  2995 cm3 or 182.8 cu-in |
| Number of valves    |  24 Valves |
| Aspiration  | Turbo Intercooler |
| Maximum power – Output – Horsepower  | 340 PS or 335 bhp or 250 kW @ 5000 rpm |
| Maximum torque | 500 Nm or 368 lb.ft @ 1370 rpm |
| Drive wheels – Traction – Drivetrain  |   AWD |
| Transmission Gearbox – Number of speeds | 8 speed Sequential Automatic Transmission relations |