403 Garden Office by L'atelier Fantasia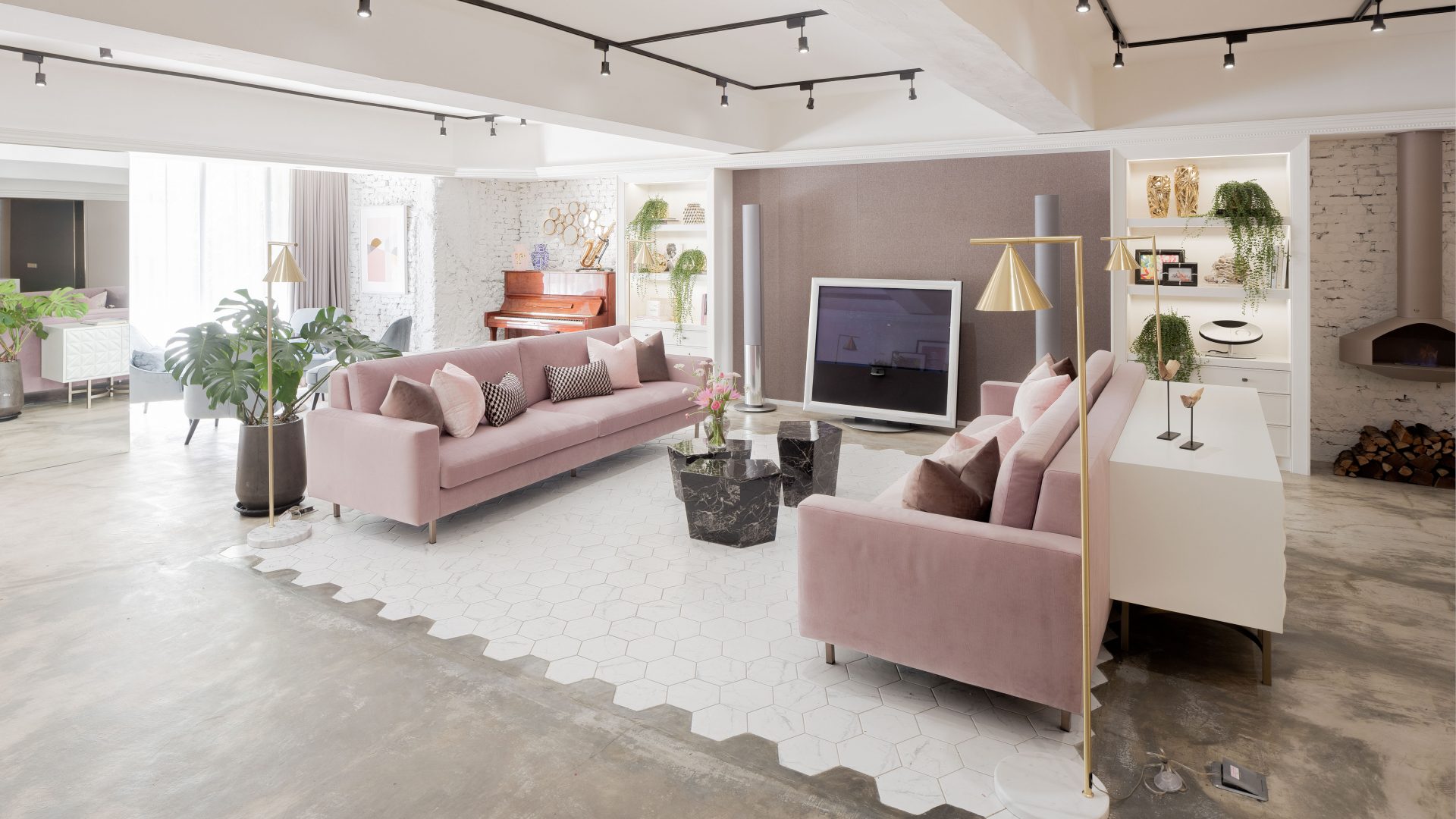 This 230-square-meter 30-year old space has been modernized to house a dietary supplements company. Spring greens, flowers and cherry blossoms breathe life into a previously cold, open space, transforming it into a lush, warm, welcoming environment for a health-conscious business and its employees.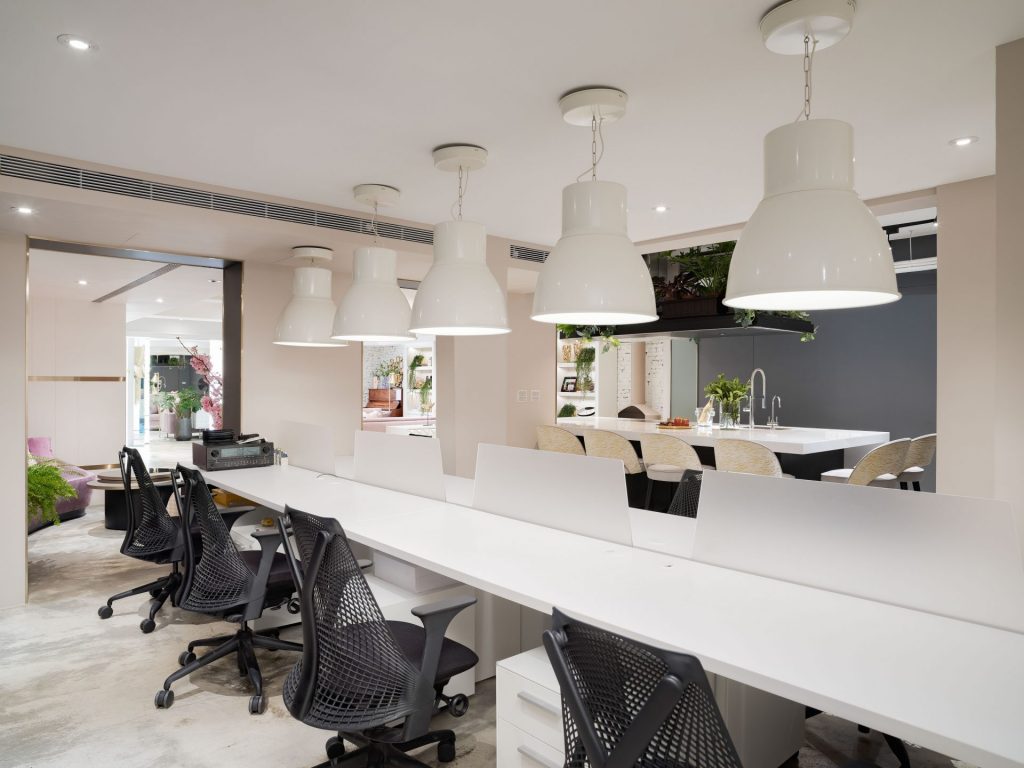 With clientele consisting of mostly women, the space was designed to provide a feeling of warmth, welcome and beauty through the integration of flowers, and greenery throughout the design. Space for fireside chats, sharing of feelings and a demitasse of a freshly-pulled espresso transmute this working office into a café-scape while sounds of music and outdoor gardens add to the senses.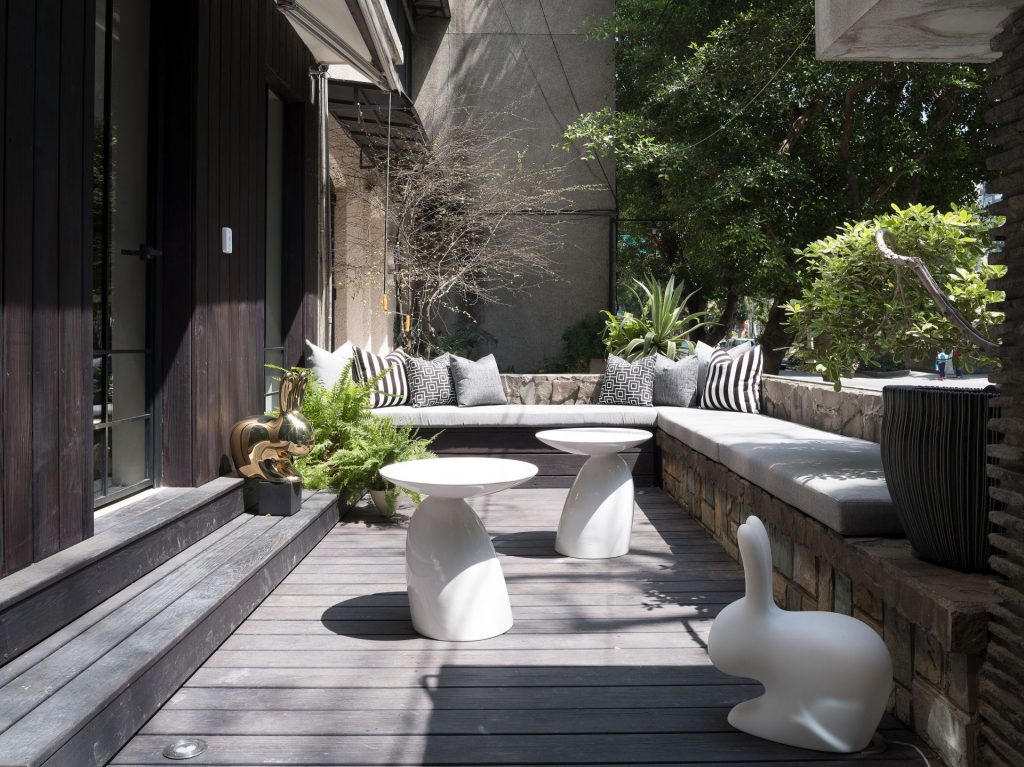 Integrating old and new, rough white painted brick walls and polished concrete floors contrast the white modern brass-trimmed counters while splashes of color from cherry blossoms and flowers carry into the central sitting area sofas set on white marble honeycomb tiles and pentagonal solid marble cocktail tables. The striking black hexagonal tiles in the bathroom bring continuity. A striking floral print by René Twigge set against a gray wall springs into the space setting the overall tone.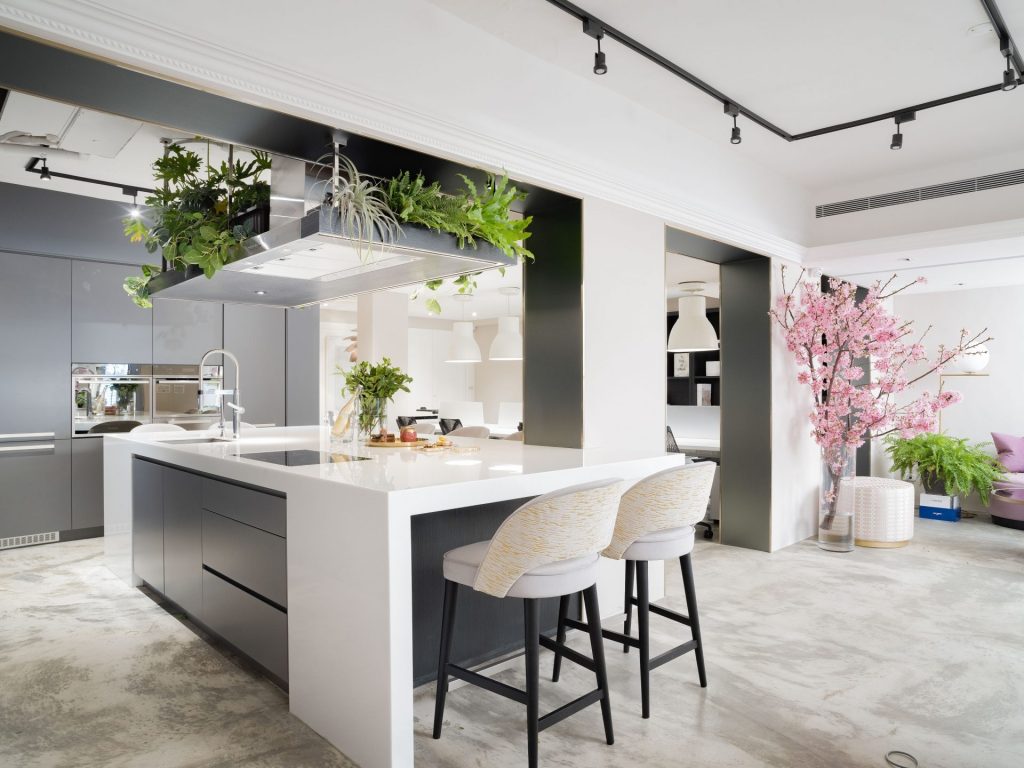 The indoor space comprises 230m2 with an additional 33m2 for an outdoor balcony. The indoor space is divided into a reception area, an office area with 10 workspaces, a kitchen, a meeting room, garage, with an upstairs yoga studio and lounge area.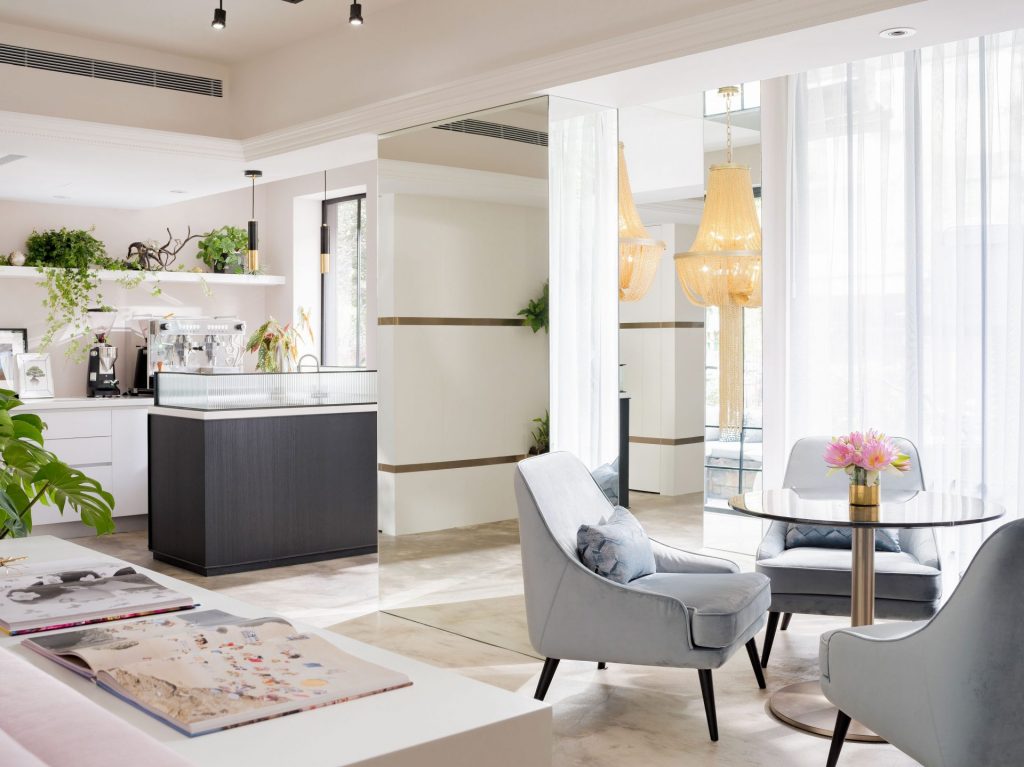 This office space was converted from a home layout with a patio entryway with garden to the main door opening into a reception area and coffee bar. The open design allows the use of multi-function meeting areas around the central reception area. An open kitchen and large central island provide additional flexibility. The office with its long work table is set to the side with a large meeting room behind.  
The open kitchen and expansive central island with seating for 8 is a focal shared area for taking a break, chatting and relaxing. The sharp contrast of the white and pale pinks outside are with industrial metal glazed hexagonal tiles and striking pendant lighting in the bathroom. The goal was to create the most comfortable environment for a workspace.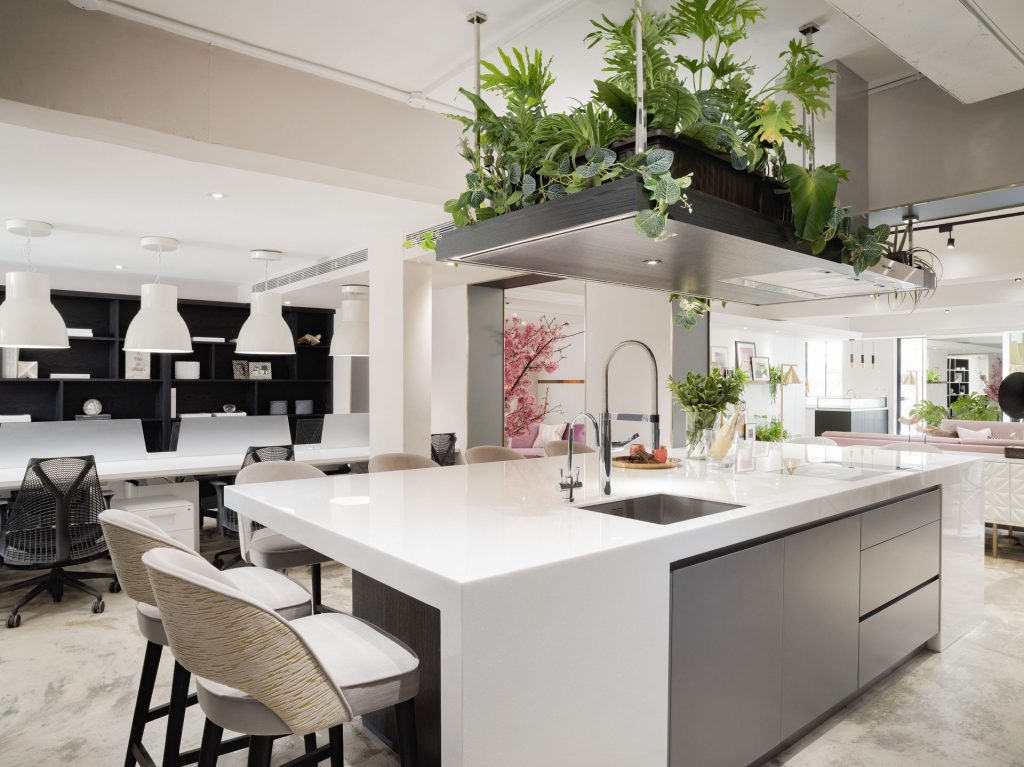 As the building was aging, a complete remodel was necessary, including stripping down to the base structure. Plumbing, rewiring and weatherproofing put added pressure on the budget. In adding a courtyard at the entrance, the goal is for guests to move from the busy city into a calming garden scape, setting the mood before entering the welcoming floral space inside reflecting health and wellness of mind and body.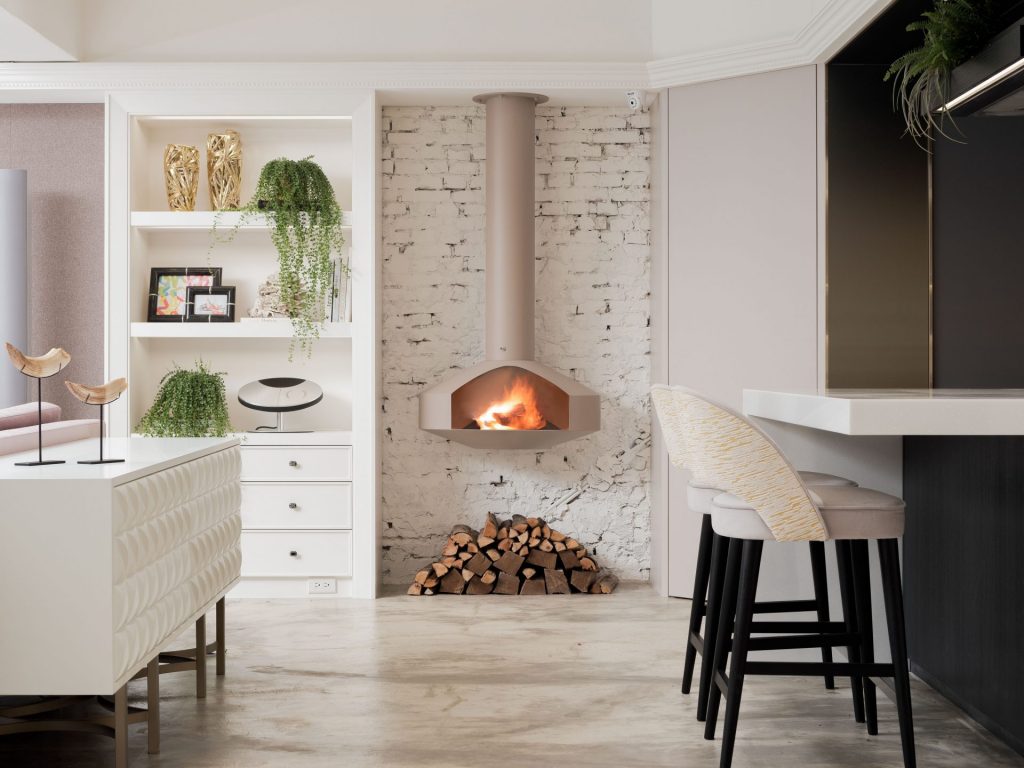 This lush garden office welcomes its clients into a feminine floral-toned space replete with pinks and rose hues. Calming scents and colors wash over the space with contrasting industrial polished concrete and multi-function meeting areas. Modern furnishings set against white-washed exposed brick walls and an electric fireplace convey warmth, comfort and hominess. The open office and kitchen unite employees and clients together as family.Find out more about L'atelier Fantasia company and their projects on their website.