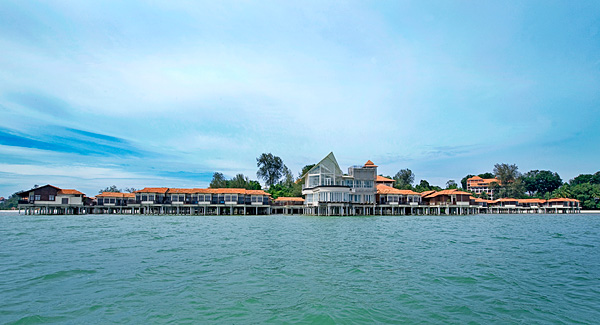 AVi Spa
Built on a floating pavilion concept at Avillion Port Dickson, aVi Spa is a standalone double storey building on stilts that occupies approximately 7,000 square feet. The concept of aVi Spa is based on the aura of peace reflected in the stillness of the jade-green sea, the pervading silence and the glorious sunsets of the Straits of Malacca.
aVi Spa's healing philosophy is delivered through "low-tech, high-touch" technique – the healing nature of human touch combined with high quality and highly effective products selected which are key ingredients to bringing guests ultimate release and rejuvenate experience.
aVi Spa's menu is specifically designed to support its concept and philosophy, which is a total experience of calm, respite and rejuvenation. The three-section menu is inspired by aromatherapy, local traditions and the environment.
aVi Signature is aromatherapy inspired treatments done with four mood catering essential oils. Guests can choose from these 100% custom made pure essential oil blends:
 Valour – water element oil, invoke confidence and counter fear
 Poise – earth element oil, instill balance and counter distress
 Lightness – wind element oil, induce delight and counter sadness
 Ardour – fire element oil, encourage passion and counter anger
aVi Traditions consists of Peranakan-inspired treatments with a unique blend of indigenous ingredients and natural remedies from the Malay and Chinese tradition adopted to reflect a balance between ancient rituals and modern lifestyles. Almost all ingredients used here are fresh from our Spa Garden.
aVi Marine calls upon its location to bring the element of its surroundings into the treatments available with international brands. We are currently in the midst of revamping this section of the menu and will soon be launching a brand new line of products and services that leverage on the natural environment in which aVi Spa is enveloped.
The variety of services range from body massages, scrubs and wraps, to traditional crème bath, steam and facial therapy. Guests can opt for Rituals which are spa packages for a complete rejuvenating experience, or short treatments for a quick relaxing break.
aVi Spa is an award winning spa, recognized both for its architecture and interior design, as well as for its quality in terms of products and services. Since its inception in 2008, the spa was awarded multiple awards, such as the Asia Pacific Interior Design Awards, Malaysia Spa & Wellness Awards, Hospitality Asia Platinum Awards and The Crystal Awards among many.
List of awards – aVi Spa
2014
1. World Luxury Spa Awards 2014
» Winner, Best Luxury Resort Spa
» Finalist, Best Luxury Destination Spa
2013
1. Hospitality Asia Platinum Awards Malaysia (HAPA), Malaysia Series 2013-2015
» Winner, HAPA Indulging Spa of the Year – Tempting Experience
2. World Luxury Spa Awards 2013
» Finalist, Best Luxury Resort Spa
2012
1. World Luxury Spa Awards 2012
» Best Luxury Emerging Spa
2. Asia Pacific Property Awards 2012
» Leisure Architecture for Malaysia
2010
1. Hospitality Asia Platinum Awards Malaysia (HAPA), Series 2010-2012
» HAPA Best Experience
2009
1. Malaysia Spa & Wellness Awards (MSWA) 2009
» Best New Spa
» Best Traditional Treatment, Malay Strength
2. Harper's Bazaar Spa Awards 2009
» Most Unique Spa Destination
3. The Malaysian Women's Weekly 2009
» Best Spa with a View: Best In Beauty – Quality, Results & Services
4. Asia Pacific Interior Design Awards (APIDA) 2009
» Silver Award Recipient
---