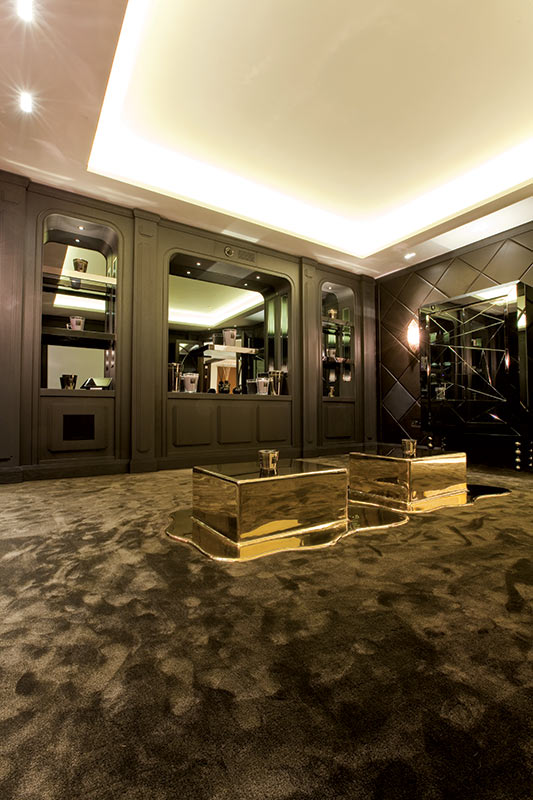 SYLKA Carpets
SYLKA is one of the leading manufacturers of luxury faux-silk carpets currently available. Emanating luxury and quality, SYLKA uniquely combines the delicacy of natural silk with outstanding durability to create a truly outstanding collection of rugs and carpets that are perfect for use in home interiors, yachts and commercial purposes such as corporate venues, hospitality, exhibitions and luxury hotels. In fact, it is the only such product to have a commercial grading.
SYLKA uses innovative NuSilk fibres that make our carpets and rugs easy to clean, anti-allergenic, hardwearing and resilient to sun damage, while still keeping the luxurious look and feel of pure silk.
Along with offering close fitted carpets, we also offer bespoke rugs that can be made to any size, using leather, faux leather, linen or cotton. SYKLA rugs are produced by highly-skilled craftsmen who use fine marquetry materials to produce a look and finish that is unrivalled.
Since the launch of SYLKA in 2012, our reputation has gone from strength to strength. The range of our products is certified by internationally-known interior designers such as Kelly Hoppen and Hill House and we have cooperated with leading luxury brands such as Hugo Boss, Ralph Lauren and Jimmy Choo as well luxury hospitality and corporate clients and high-end London based developers, such as Grosvenor Estates, Finchatton, The Berkeley Group, St James Property helping them to create the ultimate luxury look.
Our range of natural shades is complimentary to any interior space from luxury penthouses to super yachts.
SYLKA in the Middle East has seen tremendous growth since opening its Dubai office and showroom at the Gold and Diamond Park in Sheikh Zayed Road, Dubai. SYLKA has also seen a boom in its exports to the Far East with a number of ongoing contracts in the luxury retail sector, while sales in the USA, Europe and UK have also seen excellent growth.
2014 saw our growth continue with the launch of several new ranges, including Elegance (shag pile), Speckle (two tone) and Cashmere (super fine velour) on top of their other ranges; Opulence, Velour, Pinstripe, Rib and Royale.
Unlike all natural and faux silk luxury floor covering, including viscose and bamboo, NuSilk is the only fibre system of its type that will retain its beauty and delicate feel after cleaning. The cleaning properties of NuSilk are quite simply amazing and the more you use it the better it gets!
NuSilk boasts a more compact, high tenacity molecular structure than natural and organic fibre options resulting in a product that will resist fibre loss due to abrasion and will not experience shedding or pilling common in natural fibres. A specialized twisting process results in a finished product that has high resiliency, allowing increased resistance to pile crush or walk out common in floor coverings made of natural and organic fibres.
Uniquely SYLKA Carpets are certified to a commercial density rating of up to 1,000 traffics per day, giving them an extra heavy domestic/medium to heavy contract grading. All Sylka products have achieved fire certification throughout the world, including Japan where it is often difficult to obtain. It's why our products have become an ideal choice for public buildings.
Distributed worldwide from our facilities in the US, London and Dubai, SYLKA offers a touch of luxury that is second to none.
---