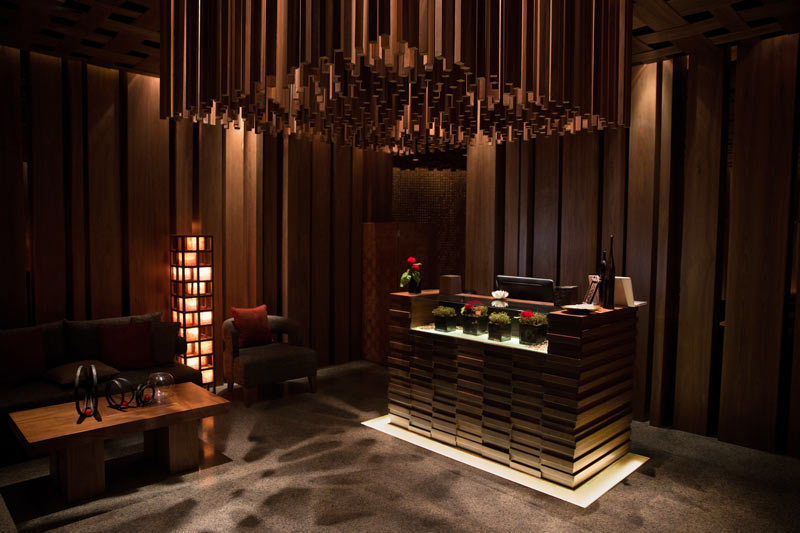 Nozomi
The Concept
A Nozomi Franchise opened and operated under the flagship company, Modern Foods Limited, in September 2014.
This prestigious reputation is also synonymous with Riyadh's elites and the high profile society both local and outside Riyadh, reaching further afar to the other main cities namely Jeddah and Damam.
The Nozomi brand is also making headlines in the international circuit with its reputation growing rapidly in the rest of the Gulf States such as Qatar, Kuwait, Oman, Dubai and the rest of the Middle East.
The brand behind Nozomi is one that is based on subtly fusing progressive lifestyle and dining experience so that, as the highly acclaimed cuisine, is served in a relax inhibition, ensures a unique and overwhelming atmosphere.
Nozomi offers a unique brand of lively atmosphere brought about by an impressive interior design, with a combination of service by specially trained and knowledgeable staff and with a personal touch making a conscious awareness of each individual guest profile, while dining in an extensive range of the best Japanese contemporary cuisine the region has to offer.
The Philosophy
At Nozomi, we do not think and treat our customers as customers but rather, as our esteemed guests gracing our own home.
Our aim is to provide the perfect harmony of balancing all senses within its impressive interior design combining its subtle but intense customer focussed oriented, giving the meaning of attention to detail a whole new dimension.
Nozomi offers a unique brand of relaxed dining atmosphere, pleasing all the inner senses; sight, sound and taste but primarily it is the pleasure of enjoying each others company.
From London to Riyadh, Nozomi also brings about a new statement of unique dining experience by fusing the highest quality food, a lively atmosphere, personalized service in the most beautiful surrounding possible.
Ultimately, the Nozomi brand is about the people that we serve for and the team of people we serve with.
Anchor components of design
Designed by one of the best and famous Asian/ Oriental restaurants concept designers in the world, Yoshinori Muramatsu from Studio Glitz has made another milestone in restaurants designing concepts, comparing it to none in Saudi Arabia.
It is designed to relax the senses and to offer a feeling of calm and peacefulness while keeping the buzz and bustling characters found commonly in a busy eatery.
Every part of the restaurant has a unique feature on its own accord and is full of intricate but minimalistic details.
The combination of light, colours and hues to the many features and details have created a wow factor along with the whole restaurant's concept.
Description of the Food Hospitality
From the outset, the intention was to serve world-class contemporary Japanese cuisine, adapting it to western taste, but preserving sufficient aspects of the traditional manner in which Japanese cuisine is enjoyed. In this context, we took the traditional sharing of dishes concept and developed it so that on presentation to the table, the food is delivered on platters and dishes which are placed in the middle, so that all the guests in that party can sample and enjoy each other's choices.
Culinary Style
The style is best described as contemporary Japanese infused with European subtleties. The exhaustive selection of Sushi, through to its famous Black Cod, and tender Wagyu beef, its world class lobster tempura to its vegetarian selections, offers the customer all that they have come to expect of contemporary Japanese cuisine, worldwide.
Sushi, Sashimi & Maki, Large varieties of Appetizers
Fish & Sea Food section, Meat & Poultry section, Wagyu Beef
Rice & many-sides dishes, Lunch menus
International Dessert Menu & Creative menu juices and cocktails adapted to the market
Private dining with space allocation for special lunch corporate to private dinners
---