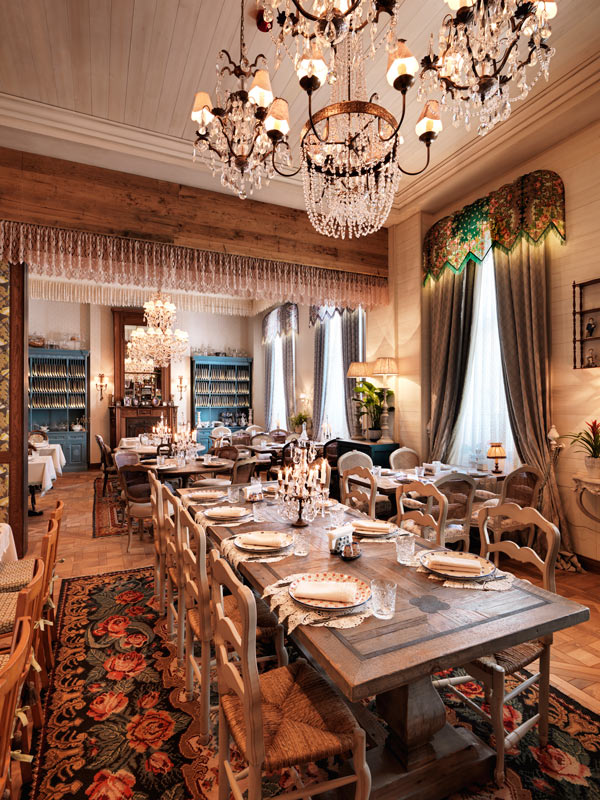 MariVanna
MariVanna – Russian restaurant with locations in Moscow, Saint-Petersburg, London, New York and Washington is in Baku now. The restaurant with Soviet dishes and Russian soul.
Once upon a time in St.Petersburg lived a mythical woman – Mari Vanna. She was known for her warm hospitality – everyone was welcomed as a dear guest at her home. Her visitants were treated divine traditional Russian dishes, served on her finest china. Those, who were frequent guests in her home, were given a key of their own, thus becoming a part of Mari Vanna's family.
In present days, Mari Vanna resides in the beautiful house in the center of Baku with her cat Valeron. As you step through her doorway, you will find yourself in a different place and era – an archetypal Russian apartment, adorned with old photographs, Matrioshka dolls, dazzling chandeliers, and an elaborate library where you can discover old Russian literature. The dim candlelight and quiet Russian music in the background will bring you to the Russian grandmother that you always wished to have – only for you she has prepared some delicious treats. And you will never want to leave.
The menu offers time honoured Russian classics such as the flavoursome customary soup Borsch served with Sour Cream in a beautiful tureen that holds enough for seconds or thirds; try the dish that can be found on any dining table across Russia on any given holiday, the Olivier Salad with Diced Carrots, Green Peas, Pickles, and Cubed Bologna or the beloved Beef Stroganoff.
Mari Vanna also makes an eclectic list of house-infused Russian vodkas with flavors ranging from sweet to spicy and savory.
Not a single person left Mari Vanna's home disappointed and many returned again and again back to this cozy retreat.
---