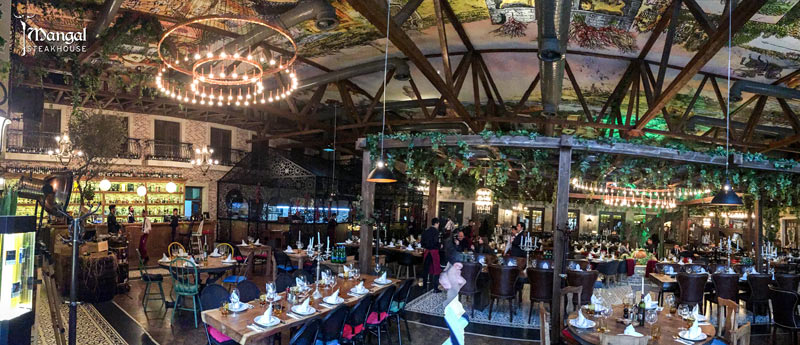 Mangal Steak House
We are glad to welcome you in Mangal Steak House!
Mangal Steak House fully supports traditions of ecologically pure nutrition and serves only dishes prepared by professional chiefs with caring about the quality of products and your health, of course. Our steaks are not only food, but a gastronomical art. We are against complicated formulas and we don't use them. It's all about nature and simplicity nice steak and perfect red wine without any sauce, that camouflages its natural taste. What is the difference between Mangal Steak House and other steak restaurants? Our food got a soul.
The restaurant's design encourages to the creation of a very cozy atmosphere in the style of old European city where you can rest from the vanity of noisy days and enjoy delicious meals. Beating heart of our restaurant a 100 years old mulberry tree, which was saved and converted to the main accessorize of Mangal Steak House. Mulberry tree is surrounded by a huge arbor, decorated with natural wood tables and comfy sofas and chairs. Take a look above and you will see painted ceiling with Baku subject and a huge 5 m diameter chandelier decorated with a special sketch in Turkey. Chandelier lightens the room and covers it with home coziness. Decoration of the restaurant is also rich with crystal candelabrums and accessorizes original sconces, decorative figures, vintage telephones and carpets.
Mangal Steak House is honored to own and present a transparent camera for dry aging a special period in each steak's life. Each prestige restaurant is obligated to have this magic case. Laid by blocks of Himalayan salt, the camera is made to keep meet till it reaches an estimated level of excerption, gentle texture and rich taste. Meat must be kept at 2-4 degree temperature and 50-70% humidity. For the sake of the quality, rich taste and softness, the room is equipped with proper ventilation.
More than 15 types of several grilled steaks are offered in Mangal Steak House. Steaks are served from grill, either with blood or maximally fried. Meat products choice is not bordered with steaks only chopped, braised and baked meat, cheese bar Despite of its name, our restaurant offers grill made food as well: fish, sea products and vegetable dishes. Traditional sausages with beef and lamb, flavored with aroma greens are our special offer. Salads, soups and desserts are also included in our rich menu.
Mangal Steak House menu includes a wide variety of home-made salted vegetables, jams and compotes, repacked in a firm cans and presented in the restaurant. Original products are always are scope of interest. Fruits and vegetables are chosen and picked by special representatives of our restaurant in the regions of Azerbaijan.
We are also very careful in selecting our staff. Only best servants from Europe, Turkey and Azerbaijan are working in Mangal Steak House.
Our recent plans include the opening of the branch restaurants and Mangal Steak House Dubai one of the biggest steak-houses in the world among them. It will be situated in one of the most prestigious regions of Dubai – It's also planned to open branch restaurants of Mangal Steak House in European countries. We are sure that new restaurants menu is going to change and separate the borders of common explication about stakes and offer an absolutely new interpretation of meat art.
We would also like to mention that Nar&Sharab, Senator, Venezia Restaurant Cafe, Sadaf National Cuisine, Highland Park Cafe and La Fontaine (French Cuisine) restaurants in Baku also belong to the owner of Mangal Steak House.