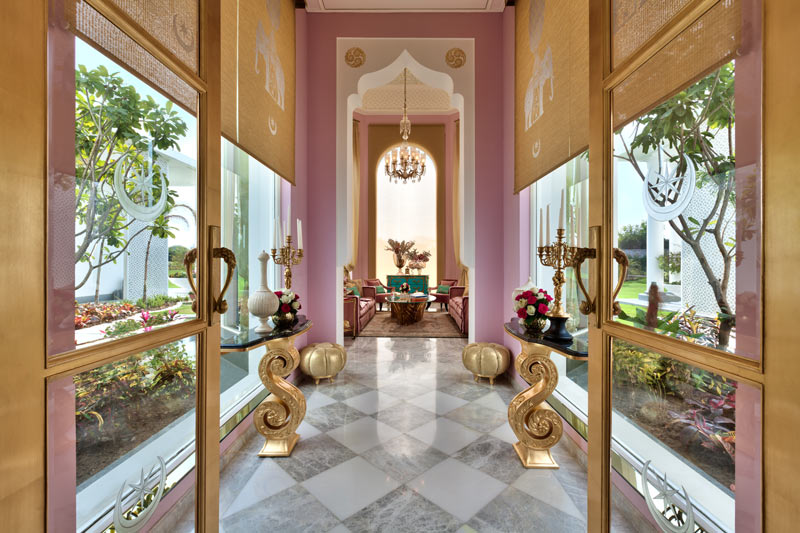 Raseel Gujral Ansal Worxx
Established with a consummate vision of sophistication and luxurious living, Raseel Gujral Ansal Worxx is the brain child of one of India's leading lifestyle designers. Raseel Gujral Ansal and was born in 1986 with the objective of carrying out the business of exterior & interior design and the production of furniture & home accents.
Exterior Building Design
Our in-house design team revolutionizes innovative exterior architecture and design that is not only functional but immensely engaging and is a true collaboration between the vision you share and the creative genius of Raseel Gujral's translation of it into rousing architectural marvels. We pride in our affiliations where every relationship is tailor-made and every design is site-specific.
Interior Architecture & Interior Decor
A similar ideology profuses into interior spaces with exquisite hard surface designs and interior structural alterations in interior architecture to the varied nuances of interior design, resultantly creating an environment that is reflective of class yet emits a vibrant persona. Diversifying further into graphic, textile and product design capabilities, where every distinctive mood and design idea can find an expression. RGA Worxx encapsulates the essence of elegance and fine living into your living space
Raseel Gujral Ansal has been the creative genius behind some of the most spectacular celebrity homes in the country. Her innate design sensibilities backed by sheer talent bringing any space alive. Raseel Gujral is a name that resonates as a testimony of remarkable design. Growing up in an environment infused with artistic inspiration from her father, the renowned artist, architect, sculptor and Padma Vibhushan awardee Sh. Satish Gujral, Raseel progressed into interior design as well as interior and exterior architecture with Raseel Gujral Ansal Worxx in 1986 and luxury lifestyle retail with Casa Paradox in 1993.
As one of India's leading lifestyle designers, Raseel Gujral Ansal has been ceaselessly valued for her outstanding ability in leading exterior and interior architecture and interior design trends over the past 29 years. Her design philosophy emphasizes a refined use of art, magnificent objects, patterns, strong silhouettes, textures and a sophisticated color palette, that is beautifully balanced to provide a refined original signature.
RGA Worxx and Casa Paradox have evolved into pioneers not only nationally, but within the international design realm. RGA Worxx encompasses an array of private and commercial projects. The lineage of artistic influence reverberates in every project with a design philosophy focusing on innovation and sustainability while emphasizing on grandeur and elegance. Casa Paradox enhances the evolution of design with regular launches of awe inspiring new collections and brands within its portfolio, whether it be the pret diffusion line Casa POP propagating High Voltage Living, or the most recent addition to the Casa Paradox array the "Casa Ivorie" collection, which takes a bold step into design with an attractive blend of colonial renaissance that exudes an old world charm with a new voice or be it the upcoming launch of "Casa Indien" essaying the drama of everyday life through the modern kaleidoscope.
Inspired by her international experience and exposure, as well as her deep appreciation for the exquisite design heritage of her native India, Raseel Gujral Ansal relies on innovation and imagination to create elegant and majestic architecture & interior spaces that express a client's personality. In a field rife with change and annihilation, she has emerged as a designer who can constantly deliver the flavour of today.
Her unique style has been brought to the attention of an elite client?le within India as well as attracting curiosity from other designers and patrons elsewhere in the world. She is continually featured in publications both nationally and internationally and is a mouthpiece for the interior decor and lifestyle industry in India and is adored by members of press for her humble demeanour. Raseel Gujral Ansal has won several awards and accolades for her outstanding work in the field of design.
---