Personalized Interior Design in Harmony with Nature – Interview with Cinzia Moretti and Michele Ingrassi, Moretti Interior Design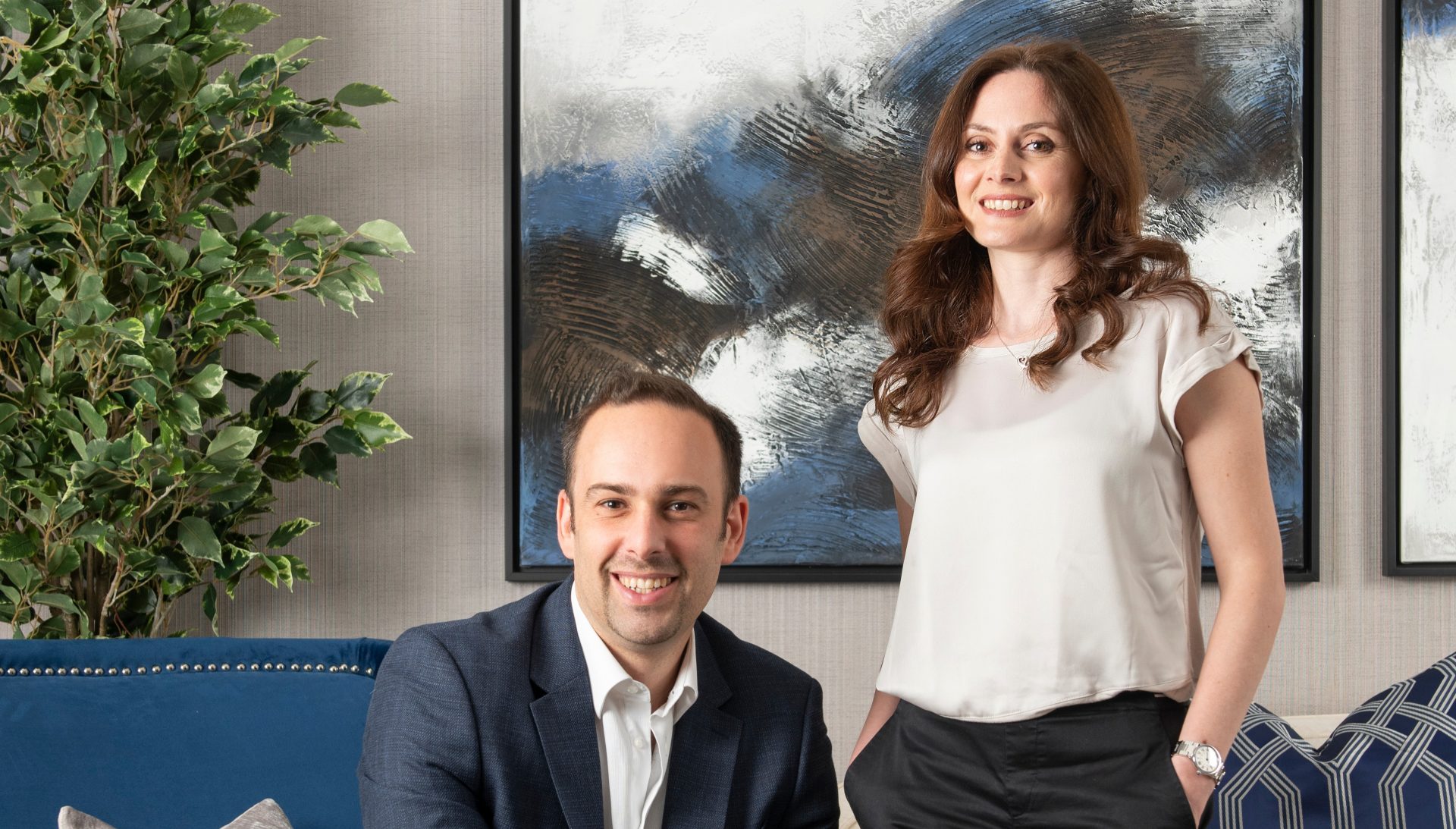 Everyone strives to create their ideal home, in which everything is perfect – both the exterior and the interior. But in the end, the key requirements of home are that one should feel happy and harmonious in it. Cinzia Moretti and Michele Ingrassi, the directors of Moretti Interior Design, winner of the Luxury Lifestyle Awards in the category The Best Luxury Residential Interior Design in the United Kingdom, offer each client a unique solution that perfectly matches their personality traits and personal needs. We talked to Cinzia and Michele about their journey and how they create homes and spaces that improve health and well-being.
Luxury Lifestyle Awards: Please, can you tell us about yourself and your professional background?
Cinzia Moretti & Michele Ingrassi: I come from a theatre background, I was a ballet dancer and musical theatre performer, and while working in the theatre, I bought my first flat, which needed to be renovated. I started changing all by myself (tiling, painting, etc.), and I thought that I really enjoyed that. Everyone liked the final look of the flat, so I attended an interior design academy. Just after the end of the course, I have got my first client and never stopped since then. In the meanwhile, I got a degree in Design and Innovation, as I love learning something new, so I am always on the search for books and new materials in the field. Michele, instead, is an electronic engineer with experience as a project manager for a big telecommunication company in Italy. He then got a Master's in lighting and joined Moretti Interior Design.
LLA: What defined your passion for design? When and why did you realize your vocation?
CM & MI: Our passion for design is defined by the idea of creating something from scratch which can help people to improve the way they live their inner space. I personally realize that I loved designing when I refurbished my first flat. Michele always had, since a young age the passion for lighting and everything that was electrical, so it was just a matter of time before he ended up doing a Master in lighting.
LLA: Please tell us the history of Moretti Interior Design. What prompted you to set up your own company?
CM & MI: Cinzia already started the company in 2008 but herself as sole trade and working in various projects. It was after a big project that we decided that actually we could combine our skills together and create a company which could be based on both design and lighting.
LLA: What are the unique features of your studio that distinguish it from other players in the market?
CM & MI: Well, we are proud to create homes for our clients that reflect their personality and put together Bio-Design as a journey for our client, in which we apply color psychology, lighting, biophilic, and all the 5 senses. Every project, as such, is different in terms of style and color scheme because our clients are so different and come to us to get something that is unique for them.
LLA: What do you think is at the heart of an ideal interior design?
CM & MI: For us, it is the brief and understanding what the client's requirements.
LLA: Where do you find inspiration and ideas when starting a new project?
CM & MI: We find inspiration in many things but mainly in Nature and looking at the dwelling we are designing and its structure but also talking to the client about their experience in life, their hobbies and background.
LLA: Please describe the stages of work with the client. How do you find design solutions that resonate so strongly with your clients?
CM & MI: In terms of stages, we follow the RIBA plan of work, so we start with the brief, then we work on the concept which leads us on the development of the ideas and going into details with the technical. Most of the time we find the solutions analyzing step by step how our clients live and anticipating the constraints we need to resolve in the house in order to obtain that.
LLA: What was the most extraordinary client request in your career and how did you handle it?
CM & MI: We had quite a few nice requests from our clients, from Spa feel bathrooms, to create interior gardens to gradious entrance with particular finishes. We love challenges and the way we handle them is by doing a lot of research on new materials and technology to putting all team together and find the right supplier for the task!
LLA: You are a married couple running a business together. Is this partnership primarily a challenge, or do you benefit more from it?
CM & MI: We work really well together firstly because we know each other so well but also because we have different skills that we bring to the table and different tasks to do, so we really complement each other and benefit from it. Michele is an engineer as background so he is very technical and I am more artistic and creative.
LLA: Tell us about biophilic interior design and architecture. How do you apply their principles in your work?
CM & MI: Although it seems a new topic right now, Biophilic has been used in design for centuries and from different cultures so during my studies and love for art I have assimilated a lot of different ways how Biophilic elements. Every client loves different elements of Nature so in each project Biophilic is usually applied in a various way accordingly to their personality.
LLA: This year Moretti Interior Design was named the winner of Luxury Lifestyle Awards as one of the best interior design studios in the United Kingdom. What are your emotions about it?
CM & MI: Well, we couldn't believe it and we are very honored and proud of this achievement, thanks also to our amazing team that works so hard in each project.
LLA: What advice would you give to young people who plan to link their professional activities with interior design?
CM & MI: My main advice will be not to underestimate the importance that interior design can bring in people's lives and do this job with passion and perseverance as it will be a lot of hard work but full of satisfactions.