Interview with Conrad Krawczyk: Owner of Conrad Properties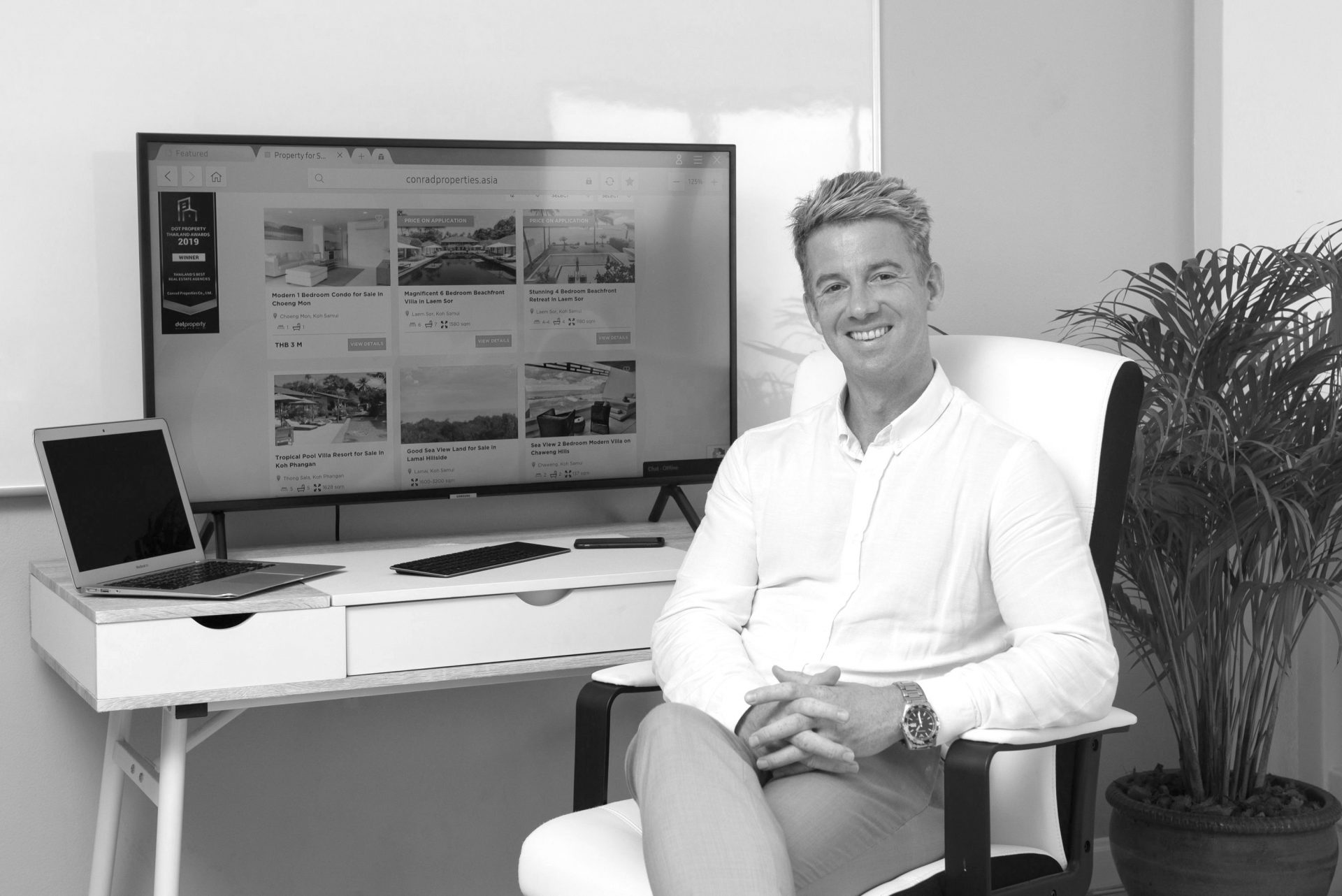 Intro: Conrad Properties is a high-end real estate company based in Thailand. Their exclusive range of hand-picked properties are located in prime locations across the country in destinations including Koh Samui, Ko Phangan, Bangkok and Phuket.
With an in-depth knowledge of the complexities of the Thai property market and a commitment to exceptional customer service, Conrad Properties aim to focus on client needs to ensure every purchase runs as smoothly as possible.
We spoke to Conrad Krawczyk the Owner and Managing Director of Conrad Properties to learn about the condition of the Thai property market, the company ethos, their specialist customer service and plans for the future.
LLA: What is the state of the real estate market in Thailand in 2021?
Conrad Properties:
The real estate market in Thailand is exceptionally resilient, having survived many pitfalls in the past, but some regions such as Bangkok & Pattaya have struggled more since much of the local purchasing is reliant on bank financing. Whereas, in Koh Samui, Koh Phangan and Phuket in particular the property market has still remained strong being a largely 'cash market'.
Many buyers have been motivated to sell, and we have seen the market change into a 'buyer's market' with many buyers keen to purchase discounted properties locally or whilst overseas via remote property purchases.
Hopefully tourism will open back up by the end of 2021 and moving into 2022, and also with the proposed new government real estate incentives & investment visa options planned to stimulate the market, the future for Thai real estate in the prime tourist destinations remains positive.
LLA: Are you seeing an increase in buyers currently?
Conrad Properties:
Yes, we have seen an increase in property buyers, particularly throughout most of 2021, where there has been a surge in purchasing from buyers searching for bargains. Also, we have seen a new trend with about 50% of our sales are now being conducted remotely via recorded or live video viewings with our clients based overseas.
 LLA: What percentage of your clients are international?
Conrad Properties:
Approximately 50-60% of our sales are currently from overseas, especially the larger purchases of ultra-luxury properties. Prior to the Covid situation, this figure would have been even higher at around 70-80%.
LLA: Which countries are you seeing the most interest coming from?
Conrad Properties:
The stable markets of Hong Kong, Singapore & Dubai, have remained popular for luxury purchases, however, there has been a noticeable increase in the German and American markets, with a decrease in previously more popular markets of UK, France, Australia & China, mainly due to the travel restrictions. However, we predict these markets will rebound in the coming months.
LLA: Which destinations across the country are proving the most popular for purchasers?
Conrad Properties:
With tourism just starting to recover gradually and the recent 'Sandbox' campaigns in Phuket and Koh Samui, tourism authorities have been quick to try and persuade overseas holidaymakers to visit again.
Of course, with Phuket, Koh Samui & Koh Phangan, the major advantage is that they are islands and therefore it is easier to control entry. Also, the absence of mass-transit systems and mostly open-air shops & restaurants, make it safer in a pandemic situation.
LLA: What is unique about the service you offer?
Conrad Properties:
We are highly unique in our approach, from conception, to our custom-created website, and our real customer-centric service that we offer.
Our website is carefully curated daily with listings being continually updated daily; we offer a huge portfolio of handpicked properties at the best prices – this is the 'heart' of the business model.
We also have a unique approach to strategic marketing & branding. Our sales & marketing approach is highly active and original, meaning we can generate a huge volume of enquiries, viewings and ultimately sales.
We also boast a team of multi-lingual property agents, who are mature, reliable, and experienced and property owners themselves here.
Our extensive reviews on Google and Facebook publicly show the real long-term relationships and, sometimes genuine friendships that our agents form with our clients.
LLA: What process do you go through to select the best and most appropriate properties for your portfolio?
Conrad Properties:
We have variety of processes that include clients visiting our office or emailing us, and we also find suitable properties online, by referrals or by physically visiting the properties and areas which we think are most suitable for our clients.
LLA: How do you ensure your properties are available to buyers at the most competitive prices?
Conrad Properties:
We do this by regularly following up with our clients and keeping in touch with our partners online, which means we are updating our website daily.
LLA: Where would you advise clients can find the best value for money in the country?
Conrad Properties:
Koh Samui market has a much more competitively priced market than Phuket or Koh Phangan. There are currently many motivated owners and developers keen to sell their projects & properties, and definitely some good deals and discounts to be had.
LLA: What potential pitfalls do you help customers avoid when taking them through the property purchasing process?
Conrad Properties:
We guide them carefully through the legal process to ensure they have the knowledge, security, and peace of mind that they need, so that the whole process is undertaken smoothly and without complication.
We recommend a thorough due diligence process conducted by a reputable local lawyer to all our clients.
LLA: What specialist training do you afford your staff to ensure the highest standards of expertise and service?
Conrad Properties:
Every week our managers train our team through role-play, questions and interactive and online video training, to ensure they are kept up to date, not just on new clients and new properties, but also on any new land & building regulations.
LLA: How has the Covid 19 pandemic affected your business?
Conrad Properties:
Covid 19 has been a tough time for most businesses, however we have adapted and been flexible in our recruitment, staffing, overheads, and marketing, so as a company we have continued to evolve and expand.
The pandemic has been generally good for our business. The company fast becoming a market leader whilst some others have faded or closed down. Also due to a surge of remote purchases from overseas, we have managed to drive sales more efficiently.
LLA: What steps have you been taking to get everything back on track after the limitations the pandemic has imposed?
Conrad Properties:
Each week we discuss in our team meetings to try to understand and make our overseas clients aware of the new ever-changing tourist and visa regulations. We strive to be current and informed, so we can pass this onto our clients as part of our all-round service that we offer.
We also offer live 'virtual video tours', recorded personalized videos and 3D models & floorplans for our overseas clients, to help them make an informed decision, all from the comfort of their own home.
LLA: How do you see the property market in Thailand developing in the near future?
Conrad Properties:
Depending on how long this third wave of Covid 19 continues in the country, and also on the government's success in obtaining the effective MNRA vaccines, the future of real estate agencies remains relatively positive.
Also, if the government's new plans for visa and property investment stimulus measures are implemented, we could see a property boom to some degree, sometime during the course of next year.
LLA: What would you recommend about Thailand as a lucrative place for property investment?
Conrad Properties:
Thailand is still a top performing country in Asia and very popular with real estate investors due to its relatively low entry price, when benchmarked against more established and expensive markets of Hong Kong, China, and Singapore.
It is a great place to have an affordable, luxury-feeling holiday home for as little as 250,000 to 500,000 USD, with real luxury properties over one or two million USD affording investors high-level of luxurious facilities and amenities, whilst still at a competitive price-point.
This, coupled with the particularly low currency exchange rate currently, and the abundance of natural beauty and fresh food, it is still an extremely enticing place to visit or to live.
LLA: What are your plans for future development of the company?
Conrad Properties:
 We have been gradually expanding across the Kingdom and are now also a dominant agency in the Koh Phangan market, as well as an emerging competitor in Phuket and Bangkok markets.
There are also plans to move into the Hua Hin market and others later this year and next, as we secure high-end properties throughout the kingdom.
We are starting to focus more and more on luxury and ultra-luxury properties, and we have an exciting new brand launching soon!