An Exclusive Interview with Mr Jens Bernitzky, Hotel Director of Hotel Victory Therme Erding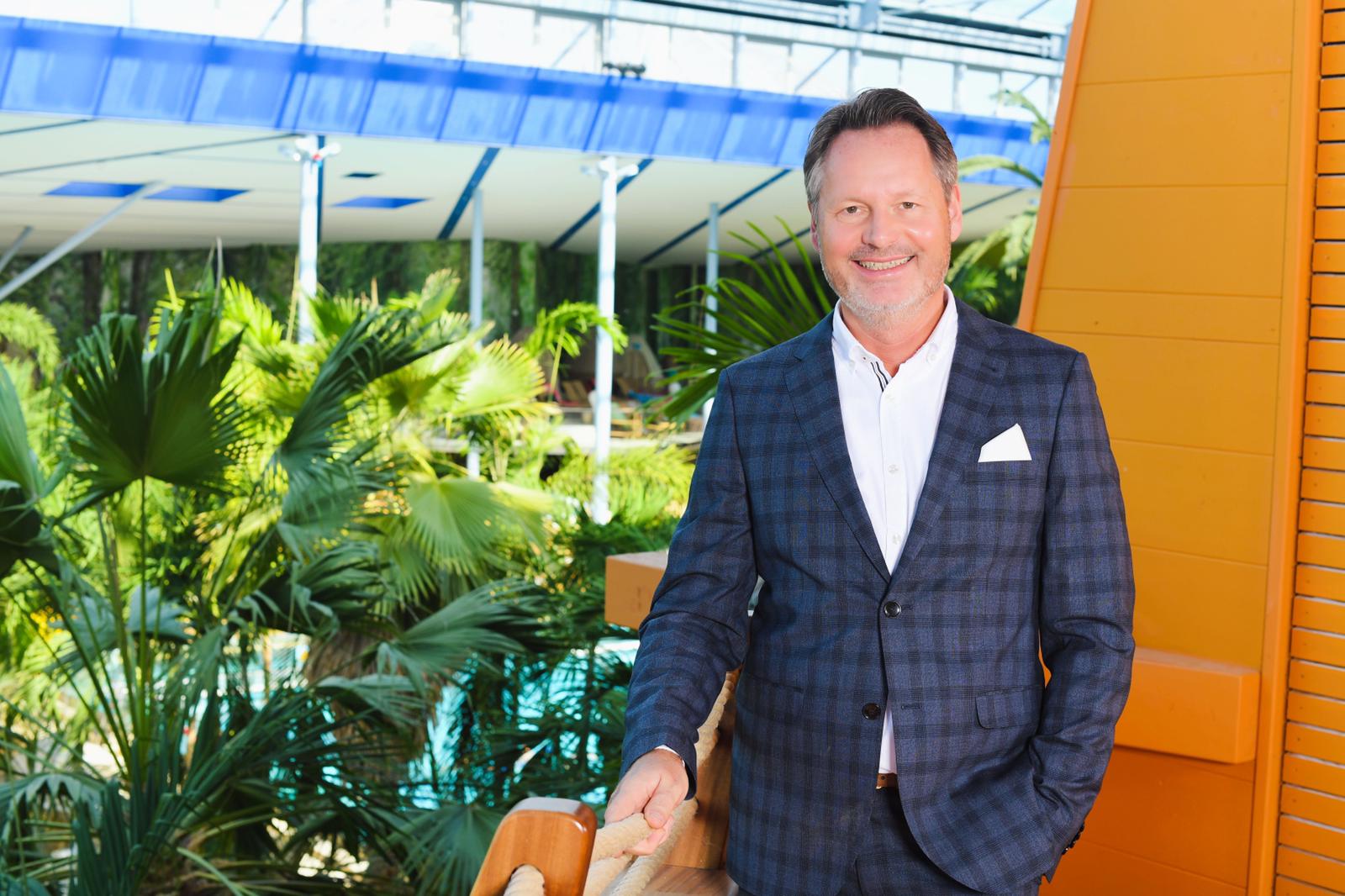 Hotel Victory Therme Erding is known as part of the biggest spa in the world with its incredible selection of saunas, steam baths, pools and slides offering a vast array of water-based activities for the whole family. The resort also provides a comprehensive health and beauty programme with a selection of rejuvenating therapies and pampering treatments available. All in a beautifully stylish setting with an impressive range of restaurants and bars where guests can enjoy a culinary journey around the world and a wide range of refreshments.  
We spoke to Hotel Director Mr Jens Bernitzky about the travel market, what his hotel has to offer, what guests can expect from a stay and his plans for the future.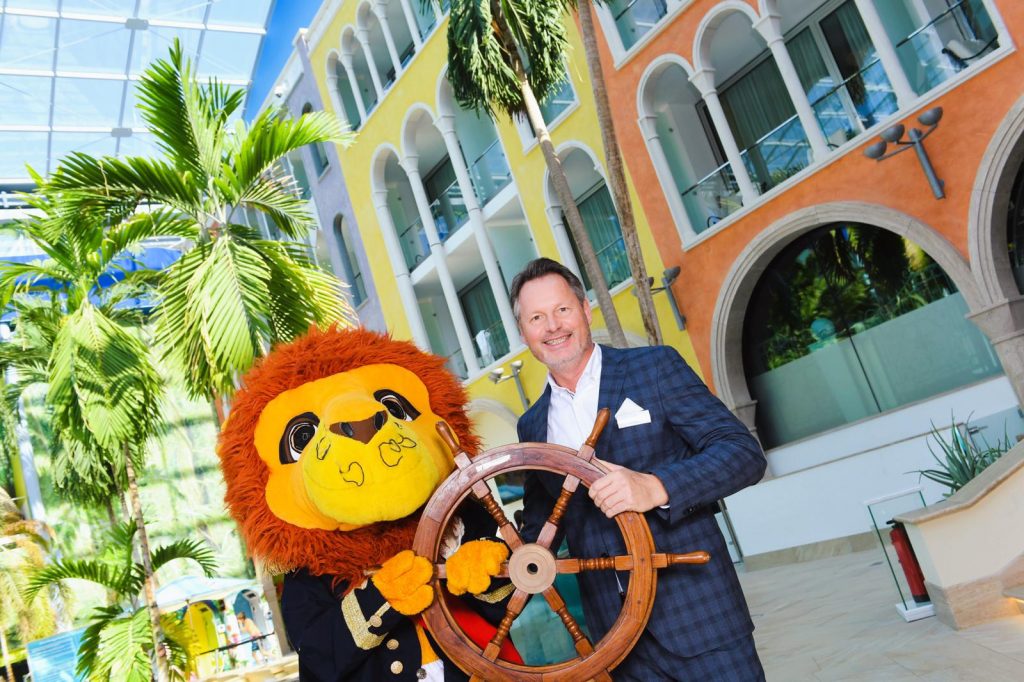 LLA: What condition is the tourism market in Germany generally?  
Jens: As many countries, especially in Oversea Destinations still have limited access due to a shortage of flights, we experience a boost of land-based vacation. Many popular domestic holiday destinations reported a higher occupancy and an increase in their room rate than before the pandemic. According to recent surveys this trend will continue. 
LLA: How is business going for your hotel specifically? 
Jens: As previously mentioned – we also benefit from "Holiday at home". Our occupancy since the Lockup in May is nearly 100% and the demand is continuously high for the next month.  
LLA: What makes your hotel unique?  
Jens: It is a mixture of several USP´s: First of all, the unique Design, as the main part of the Hotel is designed as the famous Warship HMS Victory with its admiral Nelson, plus our Venetian Palazzo. The rooms interior is a luxurious maritime style, combined with lavish Italian "Dolce Vita" Interior in our Palazzo rooms. Second: the direct access to the World´s largest Spa- and Waterpark – Therme Erding in which we offer over 185.000m² of Wellness-/Spa-/Slides-/Thermal pools indoor- and outdoor. Not to forget we are easily accessible: Munich International Airport is just 15 Minutes' drive away, Downtown Munich only 35 Minutes and the Mozart City Salzburg just about an hour.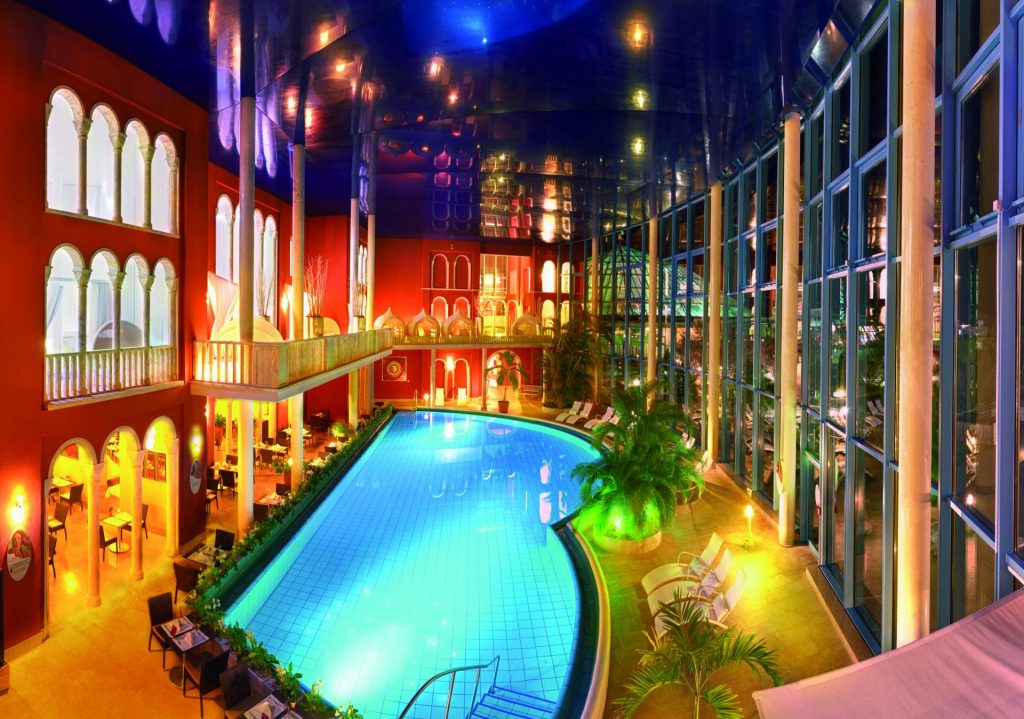 LLA: What sort of clientele do you attract? 
Jens: We attract a mix of families, honeymooners, couples that are seeking a romantic wellness weekend, but also a few business guests, as we´re also offering four conference rooms for up to 40 People.  
LLA: Where in the world do the bulk of your guests come from?  
Jens: Around 80% are from the German speaking countries such as Germany, Austria and Switzerland. The majority from our non-German speaking guests are from UK, USA, Netherlands and Czech Republic, but we also saw an increase in guests from UAE and China before the pandemic.  
LLA: What sort of activities can guests choose from during their stay? 
Jens: Kids enjoy our vast variety of Waterslides. With almost 3km of slides on around 27 different water slide attractions we are probably the only waterpark in the world, offering so many different slides. Couples rather prefer our Sauna- and Vital Oasis with around 30 different Sauna´s in- and outdoor. Their wellbeing is guaranteed due to the fact that the access to this complex is only allowed for guests over age of 16. Besides we also massage- and spa treatments, a roman bath area, Hammam and many more things to offer with you can´t experience in only one day.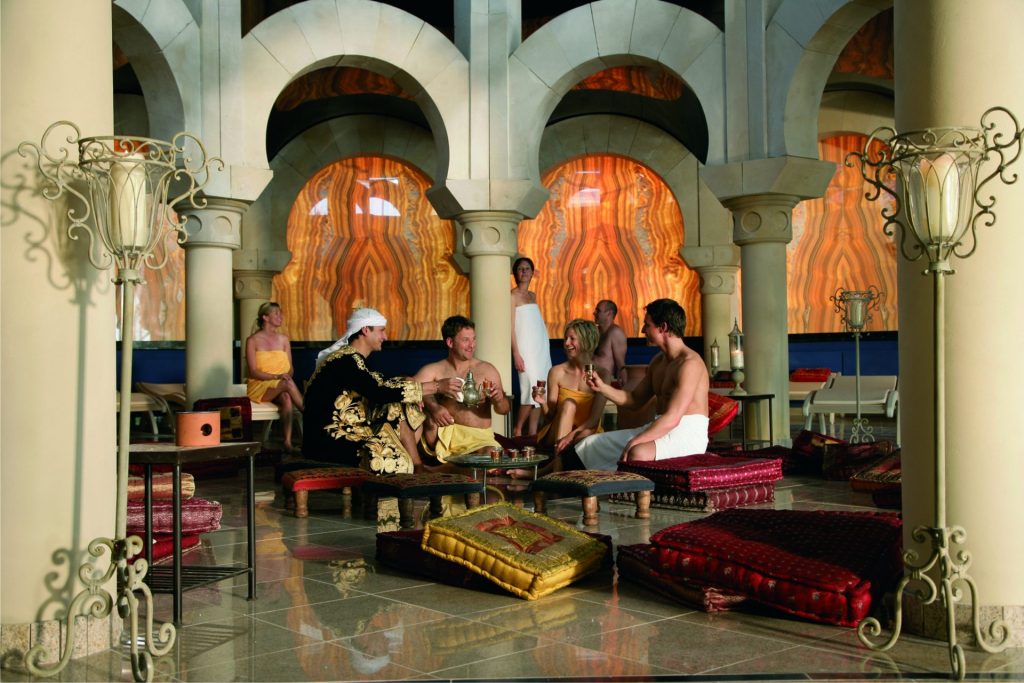 LLA: Can you tailor-make packages to suit specific health needs that guests have? 
Jens: As we have so many different treatments, guest can select their preferred treatments online and our reservation department will book- and confirm them. 
LLA: What special activities are there to keep children entertained? 
Jens: As previously mentioned: the extreme variety of slides are the main reason for families to come. We have slides for small children, but also – like our "Kamikaze" Slide, Action slides that makes you slide with 75km/h.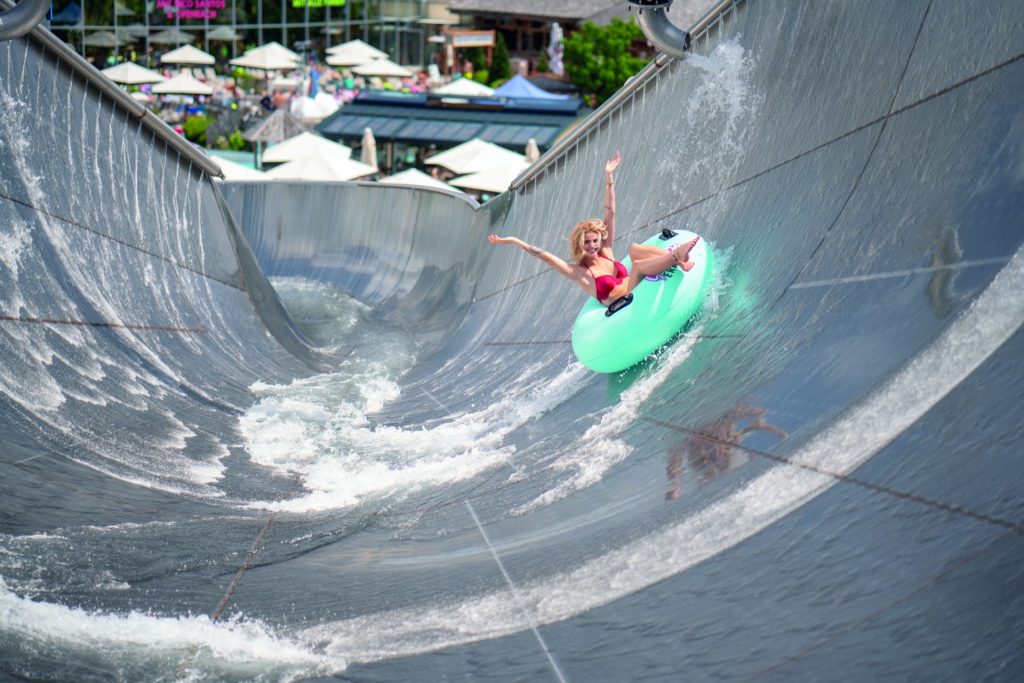 LLA: What sort of exercise programs can guests take part in? 
Jens: We have different programmes a day: from Water yoga to Water cycling, Water Aerobics to Beach Volleyball and Live DJ House-/Café del Mar Sets at our Wave Pool with Dancing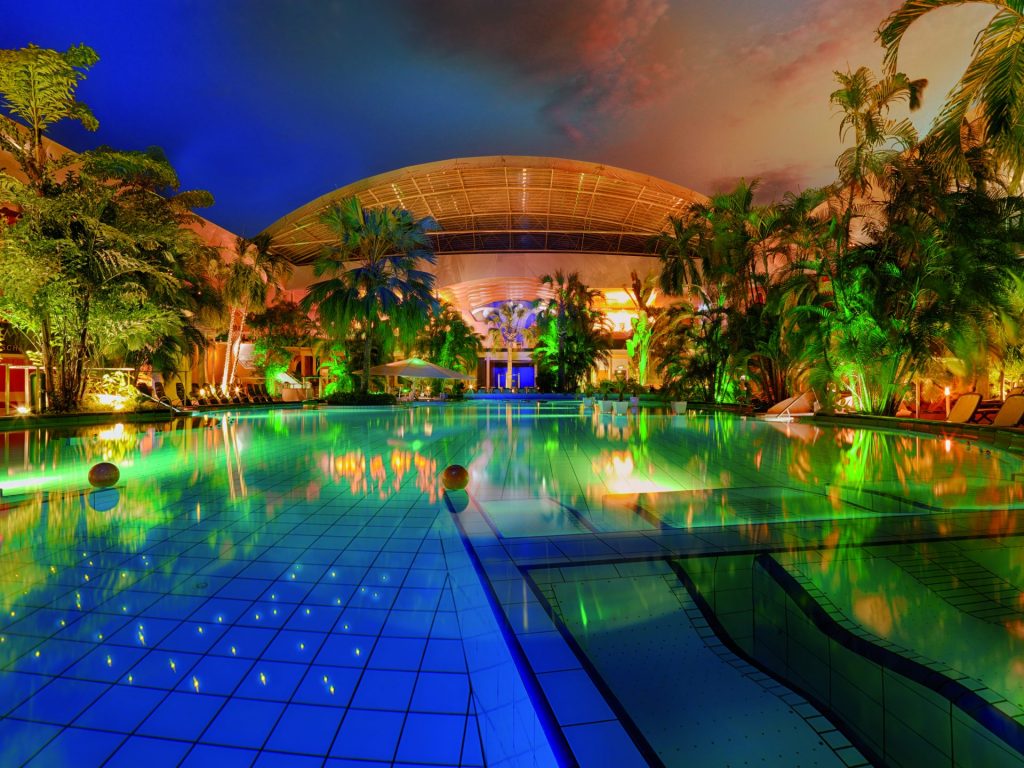 LLA: Tell us about your dining opportunities and what different types of cuisine guests can expect to enjoy. 
Jens: Within the Therme Erding we have eight different restaurants: from Burger to Italian, French Kitchen to Asian Cuisine. At our Hotel Victory we offer with our Fine Dining Restaurant "EMPIRE" a multiple awarded dining experience on a high-end level with some of the finest wines from around the world.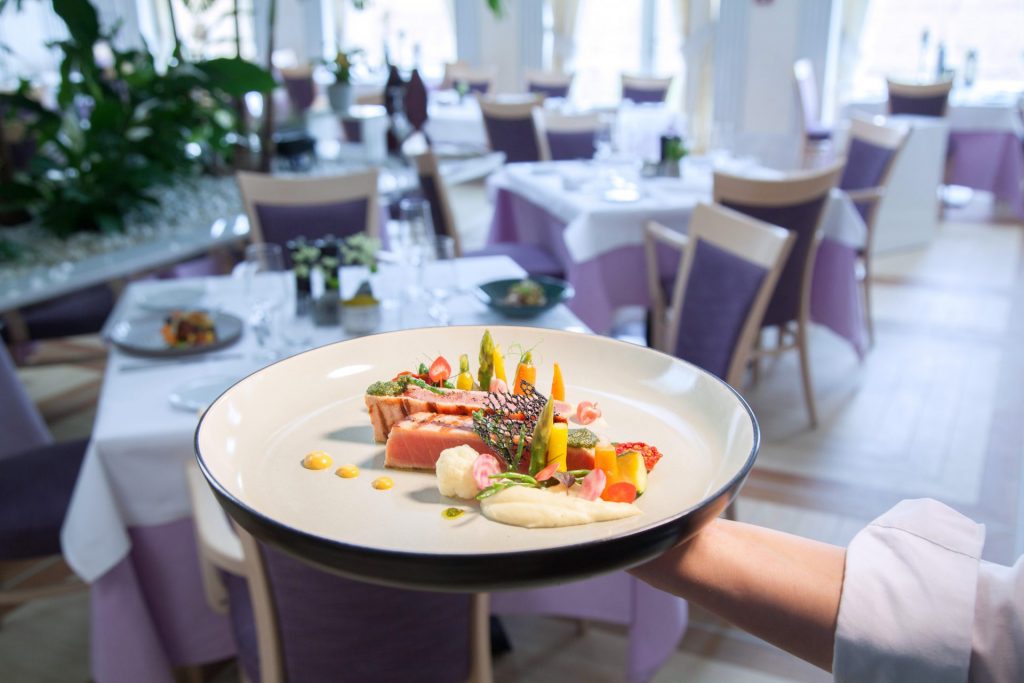 LLA: What can guests do for relaxation and rejuvenation? 
Jens: Even our guests have direct and convenient access from the hotel to the Therme, additionally we offer with our Royal Day Spa 34 extra Suites, around 20 cozy, luxurious Block Houses in an alpine Style as extra luxurious Hideaway. In both of them you´re welcomed with a cold bottle of Champagne and selected fruits. 
Besides those "Hideaways" we have plenty of other recreational areas where guests can "turn-off" from the daily business and enjoy the silence.  
LLA: Tell us about the accommodation options available at the resort. 
Jens: Within our "Flagship" Hotel – Victory Hotel Therme Erding – we offer seven different room categories. Guests can choose e.g. our popular "Yacht cabins", which are designed like a cabin onboard a luxury Sailing Yacht, or our Panorama Outside cabins with their own lounge balcony, to our family friendly "Captain's Cabin" for up to six people. 
Budget minded guests prefer our "Victory Guest house" with is a Satellite Hotel, only 150m away from the Victory and the Main Entrance of the Therme Erding. Our Hotel Garni offers everything you need, but has no direct access to the Spa.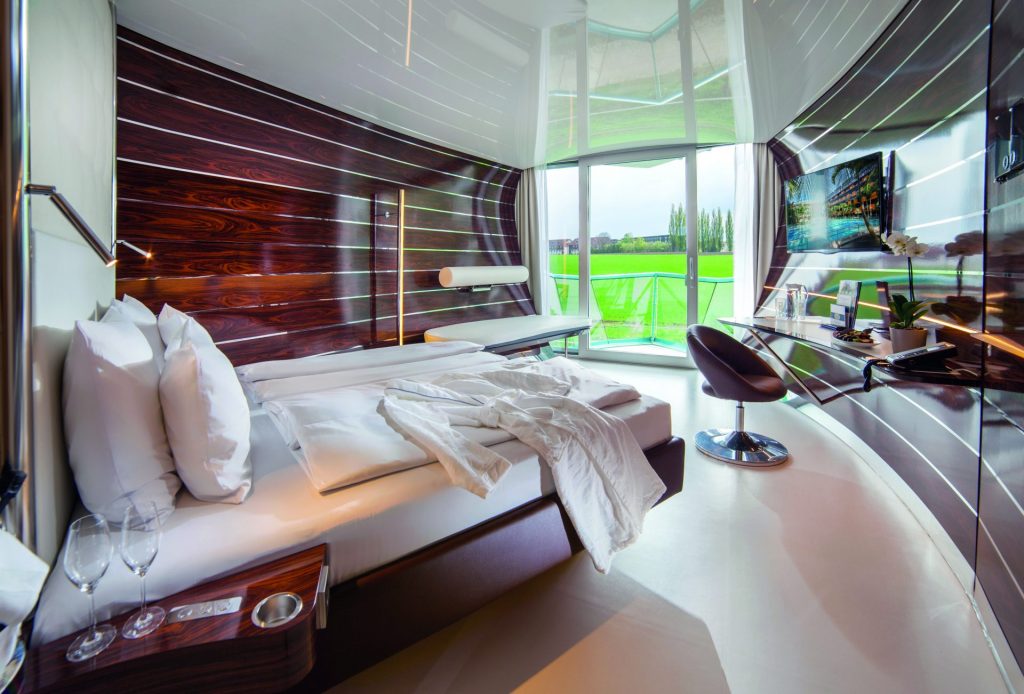 LLA: How is your recovery going after the Covid-19 pandemic? 
Jens: Already on "day one" after the end of the Lockdown we had been fully booked, which is – in my opinion – a proof that the guest trust us in terms of hygiene and quality. We are also extremely happy, that we did not face a huge loss of employees, as other hotels and/or restaurants did. Only two crew members signed off in the seven-month lasting 2nd. Lockdown. Good Employer Branding was already long before Covid on our map and it paid off.  
LLA: How has the running of your hotel had to change as a result of the global pandemic? 
Jens: Very little: of course we increased and optimized the Hygiene Concept, but as we are not as much reliable upon Overseas/international Guests, we could do our marketing as usual and attracted even more guests than before Covid.