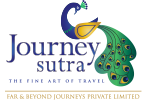 Sutra is an ancient Sanskrit word meaning thread.
Why India?
A multitude of cultures rich and unique diversity
Magnificent Landscapes
Rich tapestry of cuisine, culture & unique experiences
Business mixed with culture

Journey Sutra is a high end boutique travel company started in 2013, headquartered in New Delhi, India. Over 60 years of combined experience along with expert local knowledge. Tailor-made experiences to suit guests' individual tastes and preferences - all this while delivering unprecedented levels of service.
At Journey Sutra, luxury is not only defined by material standards but also by the personal effort and detailing that goes into definition, design and delivery of our products. Working with top professionals in every field with utmost significance on quality, our expertise lies not in selling, but in sharing the essence of all that is India.
Our Network of Offices
Headquarters: New Delhi
Branch Offices: Agra, Bangalore, Chennai, Cochin, Goa, Hyderabad, Jaipur, Jodhpur, Khajuraho, Kolkata, Mumbai, Varanasi, Udaipur
International Office: Spain, Nepal, Bhutan
The Journeys
Be it marveling at the mighty Himalayas, journeying through the deserts capes of Rajasthan, exploring the forest heartlands of Central India or wading through the backwaters of verdant Kerala, each journey has a unique story for you to live and reminisce through many dinner table conversations to follow.
Royal Splendour
Mirrored halls and frescoed walls, priceless collections of jewels, trophies, costumes, paintings and vintage furniture. Their carriages, howdahs & vintage cars are all steeped in history, telling tales of romance and chivalry.
Luxury Trains
A pre-packaged and an all-inclusive trip. Travel at night in comfortable suites and enjoy the sights and sounds of new destinations by day. Indulge in the best cultural and dining experiences imaginable
Choose from 5 luxury trains across the most popular and historic destinations, each offering a unique insight into the myriad hues of India
Sacred Spaces
India is a land of sacred spaces and ancient wisdom. Vedic philosophies have been the root of many religions. The country's multi-ethnic collection of faiths and customs create a unique mosaic.
Wild India
Travel through India's unique wilderness areas accompanied by renowned conservationists and expert in search of rare and exceptional fiora and fauna. Over 75,000 species of animals, 300 species of mammals, 1,200 species of birds and 15,000 species of fiowering plants.
Edible India
Unravel the culinary secrets of gastronomical destinations like Amritsar, Delhi, Lucknow, Jaipur, Kolkatta, Hyderabad, Chettinad, Kochi and Goa. Dine, imbibe and learn about authentic and traditional aspects of food creation and cooking with the locals of each region in their own kitchens.
Fairs & Festivals
A multi-ethnic collection of faiths and customs create a unique mosaic of festivals for every reason and season. Enjoy the best of local cuisine and participate in centuries-old traditions including religious rituals, processions, and music and dance performances.
---