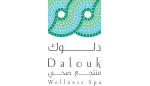 Dalouk Wellness Spa takes a holistic approach that offers deluxe spa treatments & features a very luxurious range of spa products to serve the mind, body & soul.
Run under a very selective management team who has meticulous attention to quality, the spa delivers impeccable quality standards to serve the physical & spiritual wellbeing. Professional therapists, top-of-the-line equipment & high-end products combine together to make the entire spa experience a luxurious one with special attention to the warm Arabic hospitality. At Dalouk, treatments are tailor-made to the specific needs of the clients, raising the bar when it comes to luxurious spa treatments. In addition, it offers signature services that deliver an authentic spa experience.
The facility features a 950 sq. meter of space, 12 treatment rooms, 1 hammam room, a consultation area & a relaxation area. It also offers a thalassotherapy pool which delivers the Greek concepts of sea & cure. The mineral-enriched seawater is renowned for its therapeutic virtues, and the pool operates filtering systems that deliver fresh water directly from the sea.
The spa is a hidden jewel located at Sharjah Ladies Club (SLC), a government organization run under the patronage of The Wife of Ruler of Sharjah, Her Highness Sheikha Jawaher bint Mohammed Al Qasimi, Chairperson of the Supreme Council for Family Affairs, Chairperson of SLC. With an integrated sphere of leisure & luxury, SLC is the ideal place for those who pursue the ultimate in recreation opportunities, dining venues & sport facilities. In addition, the club is equipped with range of facilities that serve the privileged women & children in the emirate of Sharjah, due to which it has earned a deserving reputation in the Middle East.
Dalouk Wellness Spa is the proud winner of The Best Independent Spa award & The Best Signature Body Treatment award in the second edition of The Middle East Spa Awards 2011 organized by The Hotel Show 2011.
---