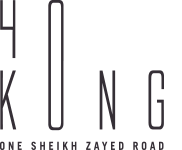 40 KONG – AN ICONIC PERSPECTIVE OF THE DUBAI'S BRIGHT LIGHTS
Home to the cool, the chic and the ageless; 40Kong has earned its reputation as one of Dubai's chicest rooftop venues. Residing on the 40th floor of the H Hotel, located off Dubais' famous Sheikh Zayed road, 40Kong has become institutional for its stunning panoramic views of the city and its delivery of what residents claim to be one of the best combinations of delicious food, vibe-setting sounds and attentive service.
The cocktail lounge and restaurant's minimalistic contemporary design features distinctive landscaping, low lounge areas, centered high tables for parties of 8 and high-bar seating, all surrounding an ingenious work of art representing the tree of life. The tree installation has become the heart of 40 Kong giving it an artistic twist amidst the bright roofs of Sheikh Zayed Road.
Aimed at offering an organic lounge experience, the menu features appetizing light bites to share carefully created to compliment the eclectic mix of signature house cocktails.
40 Kong's uniqueness and overall consistent performance has earned it much recognition including the title of Best Outdoor Bar / Pub by Time Out Dubai's awards 2015 and New York Times Traveler's choice for the best bar to see in their 36 hours in Dubai section.
---