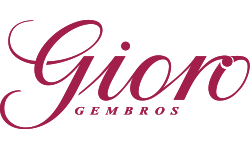 The premium brand 'Gioro' has established new standards in Korean jewelry industry with its high quality and exceptional designs.
As one of the leading jewelry designers group, Gioro presents the charm and exquisiteness of masterpiece by blending both modern and classical designs.
The meaning of 'Gioro' originated from two words 'Gemma' (jewel) and 'Oro' (Gold). This adds value to our brand for customers who seek high name value and demands for luxury oriented jewels.
Since its brand launch in 2001, Gioro has been identifying latest jewelry market trends in the world by participating International Jewelry Shows held in the United States, Hong Kong, Switzerland, India and Dubai.
Gioro creates elegant and unique custom made wedding jewelry that symbolizes forever beauty and love. Gioro's wedding jewelry brings jewels to life by using nature as its canvas. Our masterpieces are inspired from natural motives – fragrant flowers, movements created by winds, warm sunshine, and pure dewdrops that give Gioro jewelry its timeless beauty. As if you appreciate a painting in a gallery, customers can experience fascinating jewelry masterpieces, emphasized by the elegant and delicate lines and curves.
Gioro is now part of 'HanRyu' movements (also called as Korean Wave, a cultural flow of Korea) appearing in a major Korean television channels such as KBS, MBC and SBS. Gioro does not only sponsor actors and actresses in Korean drama, but also in awards ceremonies, advertisings and magazines. Gioro is also appeared in Shanghai TV and Chinese wedding magazine 'JESSE' introducing Korean style wedding jewelry.
As a wedding specialized brand 'Gioro', we strive best to provide an extraordinary jewelry piece for our customers and give close attention to details
2001. 01 Launched Gioro Brand
2001. 01 Awarded "National Tax Service"
2003. 07 Awarded 'The Best Industrial Design'
2003. 08 Awarded 'Seoul International Jewelry Design'
2003. 11 Awarded "Top Exporter" by the Ministry of Commerce, Industry and Energy
2004. 01 Registered ISO for innovation and development of New Product
2004. 08 Awarded 'The Best Industrial Design'
2004. 10 Relocation of Head Office to Non-Hyeon, Seoul
2005. 02 Opened a Showroom at Shinsegae Department Store (Gangnam Branch)
2008. 11 Awarded 'Top Exporter of 3 Million Dollars'
2008. 11 Awarded 'President Award' in Trade Field
2008. 12 Selected as a Promise Medium Enterprise of Exportation
2009. 12 'Luxury Brand Award' by Consumer
2012. 03 Opened Gioro's Wedding Jewellery Gallery
2012. 07 Gioro & Wedding U's Expo
2011. 12 Published on News Asia about entering Gioro in Premium Hall of Hong Kong Jewelry show
2013. 04 Participating 11th Korea International Jewelry & Watch Fair
2014. 01 Accreditation of Gioro Design R&D Center
2014. 01 MOU with VIP Tourist Travel Agency
2014. 03 Opened Gembros' Korean Traditional Wedding & Culture Museum
2014. 03 Corporate Alliance with Gangnam Grand Plastic Surgery
2014. 03 Launched New Advertising Campaign
2015. 01 Cafe "Damso" Open at Gioro Head Office 1st Floor
---