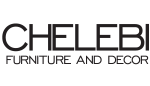 Aida Mahmudova and Farid Rasulov, two contemporary Azerbaijani artists, created CHELEBI Furniture & Decor in 2013. Accomplished in their respective mediums, they joined forces to produce a truly modern and aesthetic approach to furniture.
CHELEBI attracts both local and international clients who value exquisite taste and the desire to bring colour and variety into their homes. Comprising a continually expanding range of handmade furniture, products include intricately carved wooden tables and cabinets, sets of fine bone china, inlaid mirrors, and sofas and chairs. The elegant design of each piece is complemented by alluring patterns and abstract forms, which evoke ancient Azeri fairy tales and traditional music to create a distinctive blend of old and new.
It creates three different furniture lines that offer clients an increasingly bespoke and exclusive experience. Only 20 versions of the same piece are produced for the Exclusive series, while the Unique series provides the opportunity to own the only single copy of a particular piece. These series owe their originality to an ongoing collaboration with local and international artists, illustrators, designers and crafts people.
CHELEBI is a growing company which has quickly built on the success of its first project, the furnishing of a high-end restaurant in Moscow. In addition to a dedicated consumer following in Azerbaijan that includes private clients and interior designers, the brand is also raising its international profile and has received several offers to open stores in Europe and Middle East. Plans are also underway to increase its presence in the corporate market, particularly in premium-class hotels and restaurants.
CHELEBI is based in Baku, however the company derives its name from a mountainous and scenic village in Karabagh region, north-west of the country, that is renowned for its elaborately decorated carpets.
---