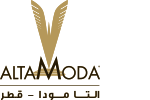 ALTAMODA-QATAR is a branch of the most prestigious Italian Furniture Manufacturer "ALTAMODA ITALIA".
"ALTAMODA is a second generation family Company: A long time ago the first generation developed a luxury classic collection, true expression of the traditional authentic Italian handicraft. Then, around ten years ago Stefania and Riccardo Volpi, daughter and son of the Company's founder, decided that the natural evolution for such Company was the idea to bring a special touch of fashion and technology to the classical collection. With this idea ALTAMODA was born, as the original blend of classic furniture experience together with the best of the fashion world.
Since then, Stefania and Riccardo Volpi decided not to outsource the matter of design: so, they have developed personally all designs and chose all materials used for ALTAMODA collections, managing in such way to express in a very direct way their will to offer to the market a very unique brand. Of course, Altamoda's mission is linked to the fast running world of fashion; this is why every year the Company renews the collection with new ideas either for design or for new color and materials combinations.
ALTAMODA's vision was to express through the products their personality, with a precise will to be unique and to address the ultimate creations to those clients who seek to be surrounded by a very special decoration, able to communicate their own originality". Today Altamoda proposes seven collections that decorate the home spaces for those people who love luxury and uniqueness without ever taking themselves too much seriously: CHIC, TIFFANY, PRIMA CLASSE, ATELIER, GIRL & BOY, VOGUE and ALTAMODA HOME.
"At ALTAMODA, we are driven by our desire to express through our products our personality.To fulfill this, we pay attention to every detail. From a technological, environmental, and industrial perspective, ALTAMODA products are, in essence, a perfect work of art." The design of luxury environments has brought ALTAMODA to decorate some of the most exclusive homes around the world. Just as an example, amongst our clients we have several members of Royal families around the Gulf, some important members of Duma Parliament in Russia and other VIPs persons throughout former Soviet Union countries, some "Bollywood" personalities in India, Presidents' families in some African countries, and homes in French Cote d'Azur, in Marbella, Spain, in Miami and in some other top locations around the world. Beyond this, we have also developed some very special projects: we can mention a top class restaurant in Monte Carlo, an exclusive fitness center in Dublin, the "ALTAMODA Cafe" in Milan, and some exclusive areas inside night clubs, boutique hotels, etc..
Our flexibility and innovation are commonly appreciated by some of the best interior decorators to give a real shape to their original creations.
With the opening of the new branch of Altamoda in the Pearl, which bears the name of Altamoda – Qatar, Altamoda will display many unique and rare pieces of the most beautiful furniture, interiors and accessories which have been carefully selected from their collection (JAGUAR, HOLLYWOOD, CHIC, TIFFANY, PRIMA CLASSE, ATELIER, GIRL & BOY, VOGUE, VIPART, POP, ATELIER and ALTAMODA HOME).
---