Welcome Richard Holt, Group CEO of Wedding Concepts, known as a winner in the Luxury Event Services category at the Luxury Lifestyle Awards 2016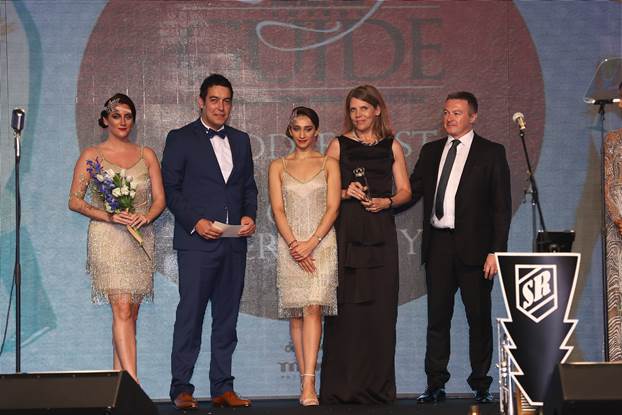 Wedding Concepts is already widely recognised as world class and featured internationally on a regular basis in luxury wedding and lifestyle magazines and blogs. However, it was very important for the company to get a Golden Crown. Read more about company's values and goals in an exclusive interview with Richard Holt.
What is "luxury" to you? How do you define it in your sector of business?
Importantly, however we strongly believe luxury is not about money and material things, to us it's about an experience, a feeling, a lasting emotion that touches people when they attend one of our events. We achieve this through events that are bespoke, tailor-made and personal to each client and their guests.
Is it challenging for you to compete with the companies of your own country? Do you feel ready to enter competition on international level?
Our international experience and mind set gives us a big advantage in the South African Luxury space where we are regarded at the forefront of our industry in exclusive design and coordination.
Our work in South Africa and across Southern Africa is already widely recognised as world class and featured internationally on a regular basis in luxury wedding and lifestyle magazines and blogs.
Lately the phrase "affordable luxury" is widely used, do you think that it is appropriate for your business industry?
In our case it could be interpreted as an advantage because of our favorable exchange rates for our destination wedding clientele. They can expect to experience world class celebrations for favorable budgets compared to similar events in their own country.
However it can also be a very ambiguous statement and very much open to interpretation by different parties. We always ensure we get complete clarity in our initial discussions with our clients.
What are the 5 pillars a luxury brand like yours build its policy on?
A golden thread running through all our event experiences incorporate:
- Style and sophistication,
- Impeccable service standards,
- Inspired design and attention to detail
- Authenticity and integrity
- Handcrafted personal touches
Tell us 3 reasons why you decided to work in the sphere of luxury?
- We wanted to build a business in a niche market
- We love luxury ourselves and are passionate about it
- We feel we understand the expectations and demands of the discerning client
Where does your inspiration come from?
- Our international travel where we gain new cultural experiences and exposure to luxury brands in other industries such as fashion, architecture and interior design. We also "travel" social media platforms on a daily basis.
- Our thirst for learning and knowledge and an imagination to try new things. Sometimes the simplest things can inspire, but if you are not open and looking you miss them.
- We live and work in a beautiful country with stunning landscapes and scenery that inspires us and allows us to weave our magic. With backdrops like safari lodges, historic wine estates and exotic islands sometimes our work is not too difficult.