Welcome Nataliya Kontsevaya, Interior Designer of Interior Design Studio "Belle Décor", who believes that luxury segment gives more opportunities for bold... ... ideas!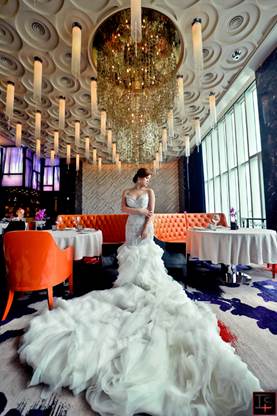 "Bold ideas" or exclusive and innovative concepts that can be implemented in interior design and then developed in something really awesome were the main reasons for Nataliya to choose the luxury segment. Working in "Belle Décor", Interior Design Studio from Kazakhstan, she has to find out a new vision in luxury design. And she really likes it.
What is "luxury" to you? How do you define it in your sector of business?
Luxury, in the broadest sense, - is the mindset of a successful person when you're not content to small and desire for more. Luxury in interior design - is the best-quality, expensive and exclusive interior, which has no mass consumption but developed for a specific project.
Lately the phrase "affordable luxury" is widely used, do you think that it is appropriate for your business industry?
"Affordable luxury" can be understood respectively by each individual. For someone it is possible to drive an expensive car and live in a big house, but for someone else - it just means to buy something good to eat, that another one can afford once in half a year. This applies in our business, where one customer considers affordable exclusive collection of well-known brands and can afford it, and another one is considered to be involved in a luxury world ordering a design project for a little money.
Is it challenging for you to compete with the companies of your own country? Do you feel ready to enter competition on international level?
We need to give it shot and hope for the success. As long as you try you can not tell if you're competitive.
What are the 5 pillars does the luxury brand like yours build its policy on?
What I especially pay attention to - is the selection of suppliers of goods and services for our projects. We appreciate quality, functionality, timeliness, how long the supplier has been working in this market segment, and, of course, it is price.
Where does your inspiration come from?
I find inspiration in traveling, studying different cultures and lifestyles, visiting exhibitions in the field of interior design.