We are pleased to welcome Joyce Mouawad, Corporate Sales & Marketing Director of Le Royal, Beirut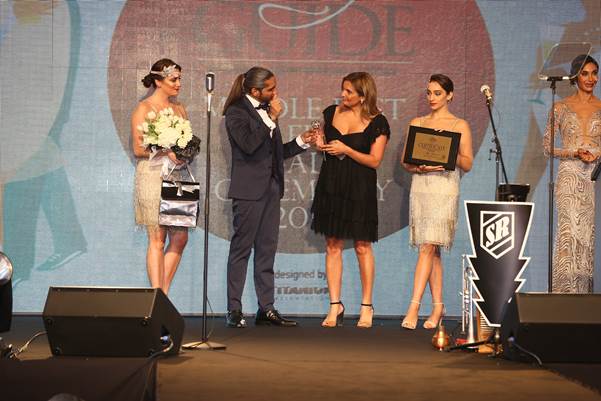 Le Royal has been announced as the best Luxury SPA & Wellness Center of Lebanon at the Luxury Lifestyle Awards. However, Joyce Mouawad, Corporate Sales & Marketing Director of Le Royal considers luxury to be not about golden bathroom taps and silk bathrobes, but about a modern, pleasant experience.
In your opinion, how does participation in Luxury Lifestyle Awards influence company's development?
It's all about branding, I believe this is another opportunity to feature our brand and highlight our premium position in the market. We're very picky and selective regarding where and how our brand should appear, and we believe Luxury Lifestyle awards matches our image.
To your mind, are there any opportunities for the local luxury companies to reach international recognition?
Absolutely. Lebanon is known for embracing luxury in all its forms, especially in the travel industry. Fine dining, haute couture, award-winning architecture and high-end luxury goods represent an important part of the market.
What is "luxury" to you? How do you define it in your sector of business?
Luxury is not only about running a beautiful property. It involves achieving the perfect service, perfect communication based on emotional intelligence of the team, and skills that each trained team member reflects. As the hospitality sector is saturated in a highly competitive market, we differentiate ourselves by creating luxury experiences that offer the unexpected and go the extra step.
Is it challenging for you to compete with the companies of your own country? Do you feel ready to enter competition on international level?
While we're very good at what we do, we don't take our level of luxury for granted. It is challenging in the sense that we are always striving to be ahead of the rest. Ultimately it all depends on the effort made in order to create unique selling points and unique experiences. We already won several prizes internationally, including very recently the Best Spa in Africa and the Middle East. We're more than ready to compete on an international level, particularly since we excel in luxury hospitality.
Lately the phrase "affordable luxury" is widely used, do you think that it is appropriate for your business industry?
As mentioned earlier, Luxury is not only about the property itself it's about providing services that are often free. Affordable luxury means providing the guest with what is needed and what makes us happy and relaxed, and this is why we consider ourselves pioneers in affordable Luxury.
On this topic, I would also like to mention the term 'understated luxury' which also ties in with our philosophy. For us luxury is not about gold bathroom taps and silk bathrobes, but about a modern, pleasant experience with an essential human touch that money can't buy.
What are the 5 pillars that a luxury brand like yours builds its policy on?
1. Offer the unexpected to exceed our guests' expectations and earn their loyalty
2. Empower our employees to achieve the highest level of customer satisfaction by creating a positive, proactive atmosphere among the team.
3. Encourage innovation/creativity
4. Provide high product quality and superior customer service
5. Practice sustainable development and help the community
Tell us 3 reasons why you decided to work in the sphere of luxury.
1. Since I was young my aim was to be surrounded by beauty, not necessarily expensive but beautiful products and experiences. For me luxury reflects unique beauty.
2. I embrace the challenge of creating luxury because it is not only related to a product but also to a particular atmosphere, music, scent, company, and country.
3. I see luxury from different perspectives that I like to combine: luxury of time, luxury of freedom, luxury of happiness, luxury of good health, luxury of success…
Where does your inspiration come from?
I read a lot, I travel a lot, music is part of my daily life, and I'm very curious to know more about painters, designers, creators and inspirational people. Nature is one of my main inspirations, as well as the habits and customs of people. This includes culinary traditions, fashion trends, high-tech innovations, artistic expression, age-old traditions and the finesse of human interaction all of which conspire to keep my inspiration alive.