Real Challenges of Real Estate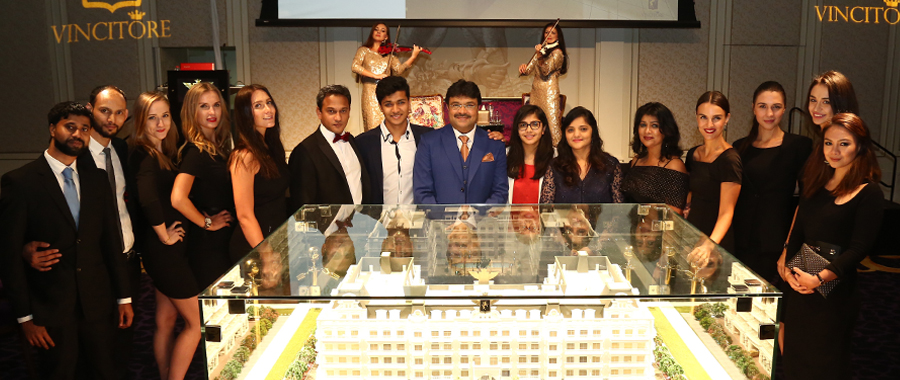 Today we are happy to speak with Vijay Doshi ,Managing Director of Vincitore Real Estate Development LLC. Property development and management is an always-interesting industry, especially in such region as UAE, so there are many curious points we'd like to touch.
Vijay Doshi please tell us, how difficult was it to get into this business in UAE? How intense is the competition?
Entering the Dubai real estate market was the easy step, sustaining our position and staying true to our vision of creating branded real estate has been challenging, albeit enjoyable. Given the vast number of players in the developer space, we realized early on that the greatest differentiators are quality and on-time delivery, two areas we focus on and remain paramount to our work ethic. With Vincitore Palacio, our flagship project, investors were extremely happy at the fact that they got the keys to their home as promised. This instills trust and is a great way to build reputation and goodwill in the industry.
Following the previous question: what did you have to do to stand out and find your niche?
Given that our focus was on developing branded real estate which was affordable for even the mid-income investor, we had to ensure that at no stage was quality compromised. To ensure integrity at all times, we appointed the globally renowned German auditing and compliance body TUV Nord to attest to world-class safety, reliability and quality at every stage, an industry-first initiative by a developer in the market. Vincitore Palacio's conception, development and completion was spearheaded by a team of expert and like-minded planners, architects and engineers who dedicated over 860,000 hours to building homes that stand testimony to timeless quality, supreme craftsmanship and meticulous engineering and are affordable for every consumer.
What are the biggest challenges of the real estate industry in general? What kind of team is essential for a company to overcome them?
We look at every challenge is an opportunity in disguise. With regard to Dubai, the current momentum in sales is driven greatly by end users, particularly first-time buyers, who are investing given the affordable prices and attractive payment plans offered by developers. As per recent estimates, off-plan sales has dominated 2017, accounting for 68 per cent of all sales transactions to date, which is an increase of 55 per cent year on year. This is an indication that what the market needs properties that offer a good standard of living in terms of well-designed spaces, proximity to nerve centres of the city and access to amenities. Mortgage-based transactions now make up 50 per cent of transactions in Dubai. Thus Vincitore being a Customer centric company, we have always tried to bridge the gap
You state that your company is very global-oriented. You work with customers from GCC, the UK, China, Europe, the USA and Africa – that is impressive. How different are the customers' demands in these various regions, and how difficult is it for you to adapt to their needs?
Across the nationality and different countries there is one thing which is common and which all customer want is Quality at value pricing. We at Vincitore focus on quality only, so it was not difficult dealing with different nationalities of people.
This year your company won an international award – Luxury Lifestyle Awards, becoming #1 in the category of Luxury Apartments in Dubai. Why did you decide to participate in the first place, and how are you planning to take advantage of the fact of your victory?
We decided to participate as we had just rung in the momentous success of handing over our flagship Vincitore Palacio residences. The scale of the event was a trailblazing first for Dubai's real estate industry with close to 700 attendees gracing the evening, to experience firsthand, our commitment to our vision of creating signature destinations. All in all, this has been a fantastic year for us as we continue to lead the way in the real estate industry with our innovative branded real estate projects and our quest to make luxury property affordable to mid-income consumers. With the launch of our second project, Vincitore Boulevard, which offers residents access to well-designed spaces and top of the line amenities, and set in one of Dubai's burgeoning neighbourhoods, we have raised the bar for the level of transparency and customer service experience within the industry. This award is a testament to our achievement of our vision of combining superior construction with affordable prices and and has given us the added impetus to expand our portfolio across the region. Our second project Vincitore Boulevard is progressing well and an update on the development will be made shortly.
And speaking of "international": are you planning to expand even more? And if you can let us in on this secret – where to?
Yes of course, we are planning to expand as per increasing demand from Asian counties we have also acquired our office in Asia and we shall start our operation very soon.