LUXURY LIFESTYLE AWARDS, EXCLUSIVE INTERVIEW WITH MR. KARAN TILANI, DIRECTOR OF WORLD OF DIAMONDS GROUP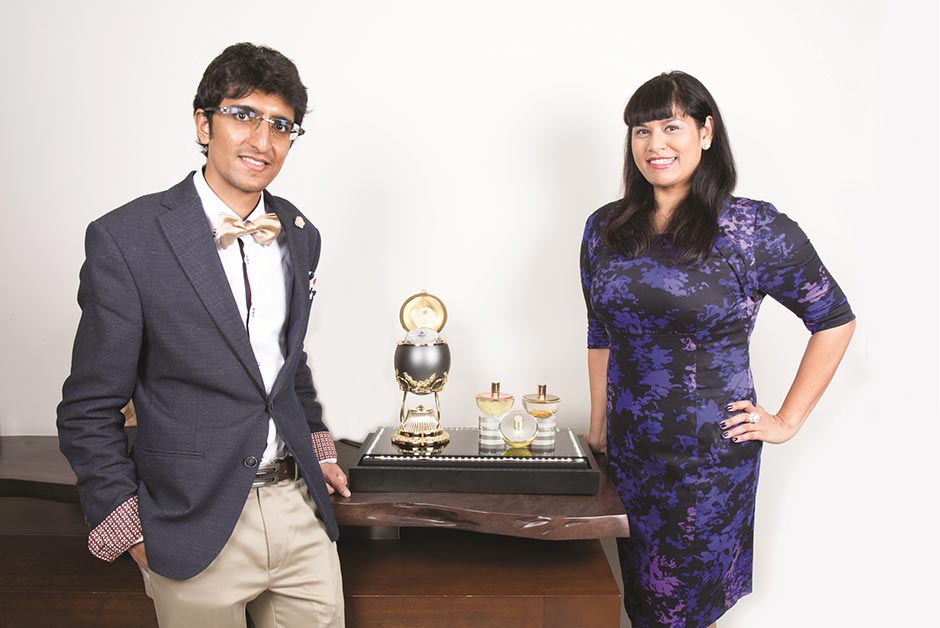 Karan Tilani and Sharon Chandran (among the wealthiest families on the Forbes rich list)
Can you tell us when you started working in the diamond and jewelry industry? Why did you choose to work in this industry?
It has been over 4 years for me in the diamond industry and with World of Diamonds Group. From young, I have always been fascinated with the sparkle and intricacies of a diamond and this gradually developed into my passion. The trade has also been a family business and I wanted to pursue the continuity of our heritage. World of Diamonds Group has always been behind some of the finest diamonds and jewelry pieces. Through joint ventures with artisans in Europe and the Americas, we are almost fully integrated in diamond mining, polishing, high jewelry creation and distribution to leading houses of the world.
How did you become interested? What is compelling about this industry?
I have been appreciating diamonds since the age of 14. Born into a family of prestige, I had the privilege of bringing the valuable gemstone to school for show-and-tell sessions. As a connoisseur of extraordinary diamonds, my aunt has been attending auctions to secure important pieces; she married a diamond mogul and was eventually in the trade. Being exposed to the family business in my early teens, I was captivated by the tiny, brilliant stones which command sky-high prices. The fact that it takes immense patience and skill to release the beauty of a diamond evoked my interest.
Describe your role in the company today. Are you a successor for the business?
As a shareholder and director of World of Diamonds, I overlook the development of the Group in Asia as well as international partnerships. Besides managing the requirements of our distributors who reach out to the end customer, the role sees me entertaining almost daily and establishing a regional hub.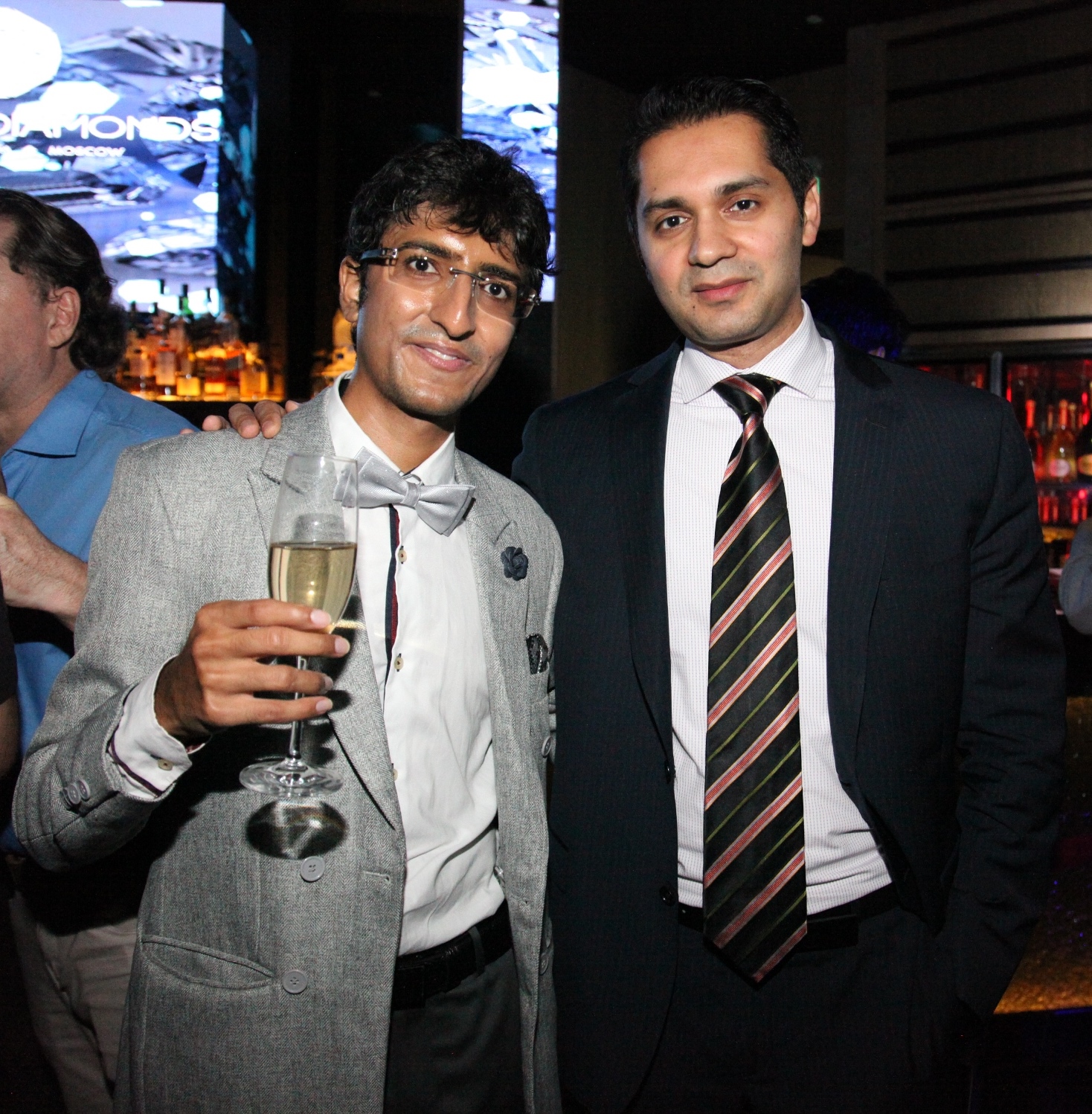 Karan Tilani and Raj Ganguly (partner of Facebook co-founder Eduardo Saverin)
I'm widely involved in marketing initiatives with top-of-the-line brands and have a strong influence on the 'world's most expensive' series which we introduce annually. We have evolved rapidly since our inception - being a Russian entity, World of Diamonds Group never focused on branding until the last few years. Supporting the backbone of the diamond industry, there was no necessity to invest in the brand or execute lavish campaigns as our diamonds are re-branded when they are sold through luxury retailers. Before establishing a presence in Asia, our Group even lacked an English name and an internet presence. I managed to convince the family that technology had to be employed in the business. My uncle and aunt do not have children and so they treat me like their son, I believe that they have me in mind to chair the Group in the near future.
What are three main challenges in your work?
Due to our widespread market reach, we have colleagues and partners based in almost every part of the world. I often experience situations where some of our partners are uncomfortable in making decisions in certain countries because of varying cultures and working styles.
A second challenge I face being associated with one of the world's largest privately held diamond corporations is meeting the unique demands of the mega-rich. I've personally recommended many of the high-fliers whom have approached us to shop at some of the luxury brands as we rarely cater to individual requests. We do not engage in the retail scene as it's a conflict of interest, since we already work with several upscale jewelers. To the discerning few whom we cater to directly and who embrace the epitome of luxury, we have had requests for a diamond encrusted Spirit of Ecstasy (the bonnet ornament on Rolls-Royce automobiles), diamond chandeliers and even diamond shoelaces. For the wives of billionaires and members of royal families, catering to their every whim involves extraordinary diamonds, hours of intensive labor undertaken with painstaking excellence and exceptional designs.
Lastly, thefts, robberies and kidnappings are pertinent in the diamond industry. It's a life-threatening danger that lurks behind every important member of the trade. Our Group has a strong foothold globally and I've had to accept overseas travel with bodyguards, as much as I despise the additional attention. Often this challenge could be part of a larger, more complex scenario such as sabotage. They can be competitor-motivated or politically-motivated and can extend to the cyberspace. For example, we had our website and data compromised in 2017, and an entity leveraged on that to defame our Group. In such cases we work strongly with law enforcement agencies including the courts to seek for damages, and web authorities such as Google, Microsoft and Facebook to penalize the culprits.
What do you enjoy most about your work? What fascinates you most?
The various interactions I have with clients and partners are what I enjoy most about being in the diamond industry. Plying the trade is much more than a life full of glamor; it gives me an insight to the complexities the mega-rich face. The wife of a Russian oligarch had to once choose between an exotic 22 carat fancy pink diamond and a rare 5 carat blue diamond as the centre stone of her ring. Being able to provide a solution to some of the wealthiest individuals on the planet by understanding what they are really looking for is indeed self-fulfilling. And because I am a perfectionist, this is fascinating. Conversations with partners can be the most interesting because people always filter their perspectives of situations. I am fortunate to regularly engage with head of states, royalties and some of the top philanthropists globally. Working across various industries provides diversity to my job scope. For example a few years back, the Group launched and sold an extraordinary perfume collection complete with lavishly gold plated His & Her fragrances, a Fabergé-inspired egg embellished with intricate detailing and lamb skin interior, and a statement blue diamond ring. In partnership with an ultra-luxury Spanish perfume house, the creation involved exceptional designs, hours of intensive labor undertaken with painstaking excellence and extraordinary diamonds.
Tell us more about the main changes that the diamond industry has seen in the last ten years.
The world has seen several new diamond mines in Russia and Canada. This has increased the supply of rough diamonds with a desirable quality in the market; both countries have the capacity to rival the highly-valued diamonds from the Cullinan Diamond Mine in South Africa and the Letšeng Diamond Mine in Lesotho. Because World of Diamonds Group primarily offers rare and exotic diamonds, the discovery of important sources has contributed to increased marketing, and progressively, the growing demand for fancy colored diamonds.
Not neglecting the advent of technology, diamonds today can be cut even more precisely, in rather fancy shapes and of larger sizes. Diamonds are natural crystals and their surface graining has a huge impact on how they will be fashioned into brilliant gemstones. For example, sawing a diamond incorrectly by 0.05 millimetres could result in thousands of dollars in wastage. Replacing traditional mechanisms, laser sawing relies on computerized systems and results in higher quality output.
Synthetic diamonds, also known as scientifically-created diamonds, are diamonds that are grown in controlled environments. This should not be confused with diamond look-alikes such as cubic zirconia, or moissanite. With technology, we can replicate the process in which natural diamonds were formed – by using graphite placed in a heavily compressed chamber and through simulating temperatures. Instead of viewing synthetics as a threat to our highly-prized natural diamonds, our Group capitalized on the opportunity to offer conflict-free diamonds. World of Diamonds Group is strongly against blood diamonds, slavery and the forced use of child labor, but this is not the case for all diamond mining corporations worldwide. And because of widespread corruption, most cases go unreported. Today, our Group is at the forefront of producing superior-grade scientifically-created diamonds, having exclusive access to state of the art diamond growing technology coupled with the time-honored tradition of diamond cutting - although this still accounts for less than 10% of our business.
What is the main advantage of your Group compared to all your competitors?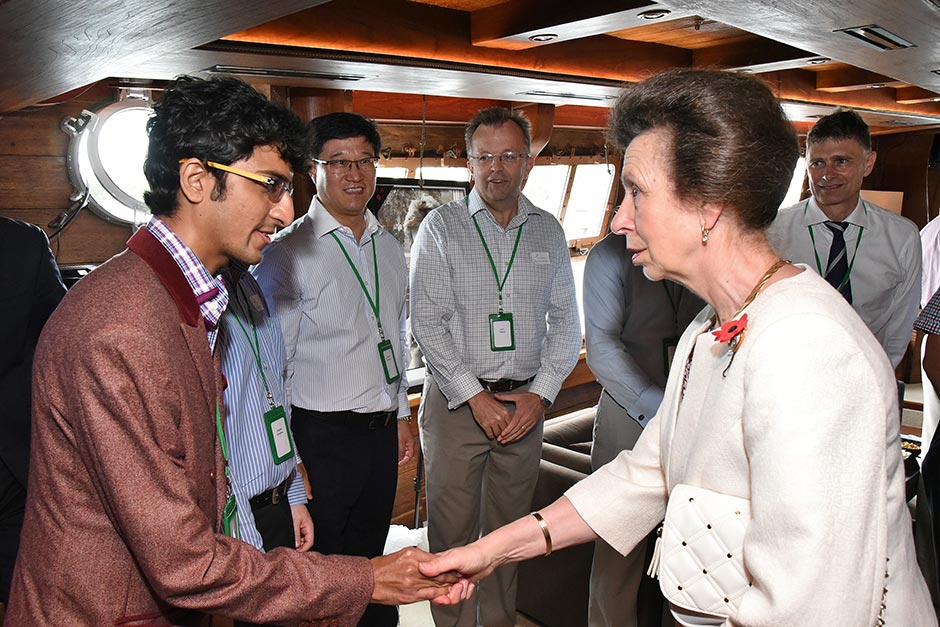 Karan Tilani and HRH Princess Anne (Queen Elizabeth's only daughter)
Our Group enjoys a long-standing reputation in the diamond industry and considerable factors have contributed to our unrivaled influence. With several arms catering for varying needs, we are very selective of our partners – known to be the most established names globally. Being almost fully vertically-integrated, we also have ready access to plenty of resources from the mines to the market. Our Group believes in reducing variable costs where possible; we purchase factories and buildings instead of leasing them. As sustainability is a key focus, we maintain our ethical sense by discriminating against blood diamonds and ensuring full transparency in our operations. The thousands of skilled individuals whom we provide careers and livelihoods to on all five continents whether directly or through our partners, has also garnered us strong support from various non-governmental organizations.
Tell us more about yourself – where you are born and educated; where do you get your inspiration and what do you do when you are not working and how you relax and rejuvenate.
Born and bred almost fully in Singapore, I graduated from a business faculty in a local polytechnic. I decided to then pursue my interest with an overseas education at the respected Gemological Institute of America (GIA). While seeking to incorporate diamonds in the fashion and real estate markets, I got fully lured into the diamond industry and was officially involved in the family business.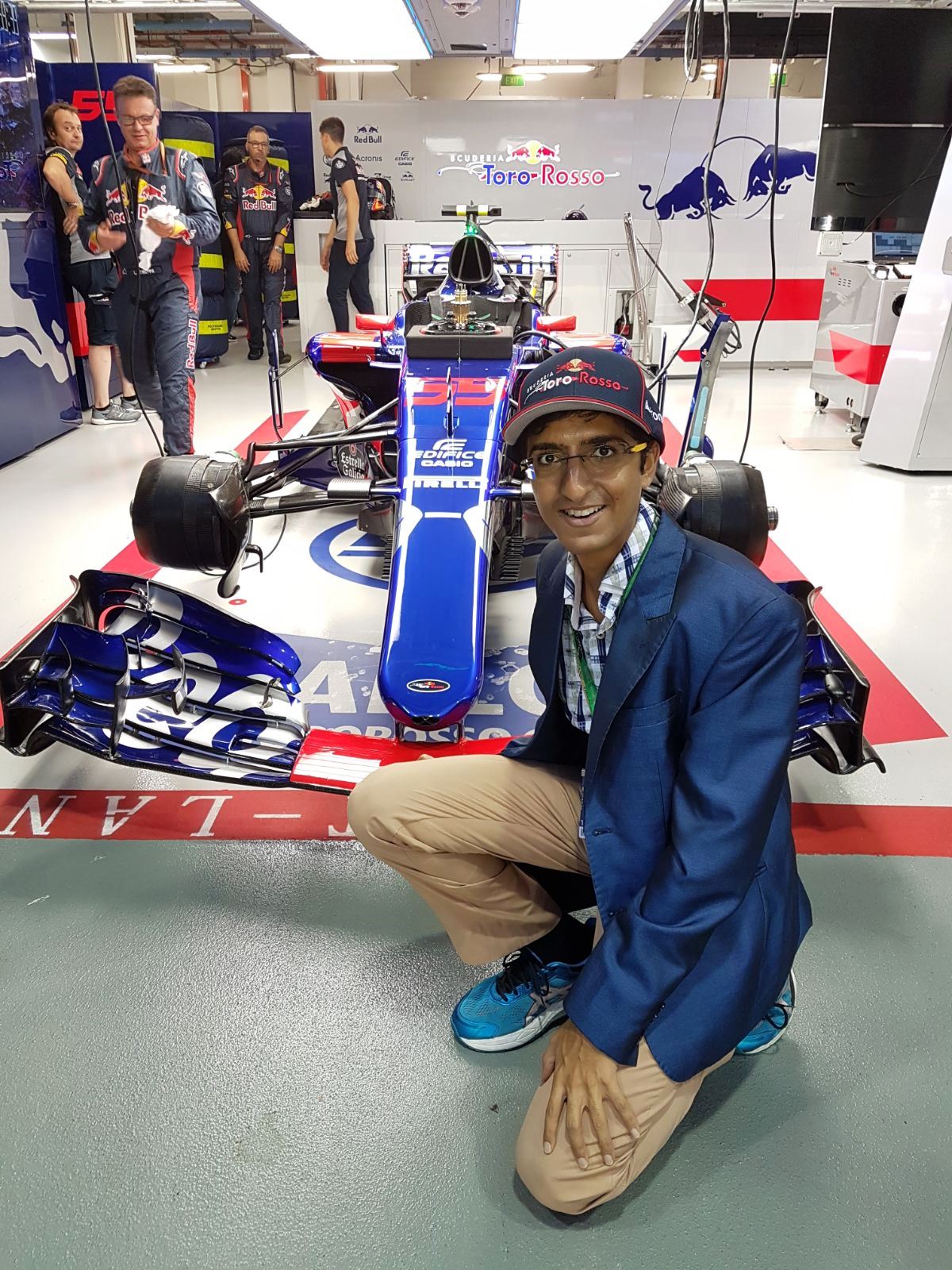 Karan Tilani with Red Bull during the Formula One
I am driven by art. Rejuvenation for me is venturing into abstract and expressionism. Although not a commercial artist, I am fortunate that the few works which I have completed were acquired by prominent individuals. As a result, the TILANI Foundation was established with a vision of touching the hearts of the less privileged. We are blessed to enjoy such levels of comfort and safety in this first-world nation, unlike in many other countries where families are dislocated as a result of armed conflicts. Philanthropy is meaningful and fulfilling, both myself and World of Diamonds Group have supported non-profit initiatives including the Sarah-Grace Sarcoma Foundation which raises funds for research in paediatric tumors, CRIB which supports women entrepreneurs, Say No to the Oppression of Women – a UN initiative, Women on a Mission – a programme to help underprivileged women and girls from specialised residential homes in Singapore, the Red Cross, Mission to the Seafarers and Riding For The Disabled Association which saw HRH Princess Anne (Queen Elizabeth's only daughter) in attendance. World of Diamonds has organized a jewelry design competition to promote innovation and creativity among young students and generously rewarded the winners; we have contributed to the Amber Lounge charity which raises funds for the Special Olympics, the Elton John AIDS Foundation, the Nelson Mandela Children's Fund and Sergio Pérez Foundation, while also being involved in numerous other fundraisers of varying scales.
Travelling is a pleasure. On business trips to South America and Russia, I savor the helicopter rides during the exploration of diamond mines. For vacations, my favorite destinations are Egypt largely due to the culture and Mauritius because of its tranquillity.
What is the most important lesson in life for you and what do you wish to accomplish personally in your work?
I have come to realize that contentment should be derived out of passion and not from monetary achievements. I personally aim to eradicate blood diamonds completely.
If you have a genie who can grant you a wish, what would that be?
That wish would be to restore the livelihoods of the millions of individuals who have been displaced and used as slaves as a result of illegal diamond mining operations. I aspire to present a new future for Africa.